"Don't ask for eggs, ask for Keggs". 
This afternoon I was wandering down the windy, mottled streets of Bangalore, stopping from shop to shop, asking if they had Keggs. "You mean eggs?" the shopkeepers would respond. "No, Keggs." The shopkeeper would scratch his beard, marvel at my accent, and then triumphantly say: "Oh, ceck (cake)!" And I would wander on…
If you are looking for healthy, nutritious eggs in India, look no further than Keggs.  After years of consuming the mass-produced concentration camp eggs, Mr T and I discovered Keggs — 6 brown eggs in a pale green box. These are tan coloured eggs, and as the box clearly says: cage free and guaranteed protection against bird flu. 
These eggs, unlike the local white eggs you get in the market, are tan/brown in colour and undeniably healthy looking. When you crack open one of these eggs you can see a visible difference: Keggs are larger, the yolks look healthier and, most importantly, the egg white is not very thin. 
The Story Behind Keggs
I discovered the inspirational story of Keggs and the man behind Keggs (Vinod Kapur) while researching for this review. In this age of startups (where money is being thrown around like confetti), men like Vinod Kapur need to come forward and share their stories. Here is a man who built a company from scratch, persevering through storms of adversity (no salary for 2.5 years — while having to pay school tuition fees, house rent, and wages!) — surviving competition from larger players, surviving liberalisation, not just surviving but contributing to a new India.
I urge you to read his story here: http://www.growthinstitute.in/emagazine/jul10/resource-center.html
Keggs: A Pricey Proposition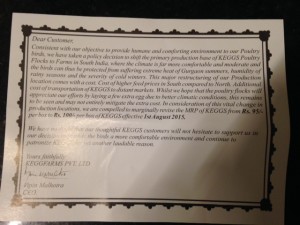 Keggs are not cheap. They come at Rs 95 for a pack of six eggs. (I believe they are raising the price to Rs 100 because they are shifting the chickens from horrible Gurgaon to the warmer climes of South India.)
Some of you may be aghast at this price — more than Rs 15 per egg — outrageous! It's really not. Think of the number of times you whip out a Rs 20 note to buy a bag of chips or a bottle of coke. You're willing to pay good money for sugar, fat, salt and preservatives. How about paying some good money for something nutritious: a healthy egg. Do it for yourself; do it for your family. Sunday ho ya Monday, roz khao – andey!!
Keggs Availability
Unfortunately, the reach of Keggs is quite limited. While they are distributed across major cities in India, they are available only in certain stores. In Bangalore, they are available in high-end supermarkets like Star Bazaar, Nature's Basket, MK Retail and the Westside Store.  
What this means is that there will be more instances of me wandering down the mottled streets of Bangalore chanting 'Keggs, Keggs, Keggs.'