On a recent trip to Nature's Basket, I spotted a wonder of the West — Greek Yogurt, specifically, Epigamia Greek Yogurt. Since I love all things yogurty, I decided to give it a shot and bought two cups of Epigamia Strawberry Greek Yogurt.
Epigamia. What's in a name?
Sure, the name sounds weird but there are some interesting historic origins to it. The side of the cup gives some spiel, but I was dying to spoon in so I didn't read to closely. (It has something to do with the meeting of Alexander the Great & Chandragupta Maurya — West meets East — Greece comes to India types. Learn more on Epigamia.com.
What is Greek Yogurt?
If you've ever looked for a recipe for a cheesecake online, you'll come across this ineffable ingredient — Greek Yogurt! What in the world is it? I used to wonder, scratching my head in consternation. But no longer do I need to wonder — it is finally here on Indian shelves, right in between paneer and curd. 
The texture and the taste of Greek Yogurt is thicker and creamier than regular yogurt (like Danone or Nestle). It is much smoother, almost as if it's already been whisked. (In a yogurt vs curd battle, this would be the baap of all yogurts!)
Is Greek Yogurt truly Healthier?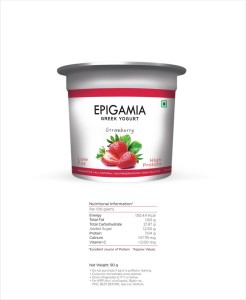 Well, here is when nuances of English comes into play. Sure, flavoured Greek Yogurt is healthier than a bar of chocolate, but it still contains a couple of spoonfuls of sugar (12.5 grams per 100 grams). 
Natural Greek Yogurt is healthy though — no added sugar, just a good dose of calcium, (healthy) fats and carbs. 
Flavours of Epigamia Greek Yogurt
The creators have been quite experimental in their flavours — aside from plain yogurt (natural), they have created tantalizign flavours like Imlee Chutney, Alphonso Mango, Strawberry, Minty Chaat, Khatta Meetha, Honey Banana, and Mulberry.
Price of Epigamia Greek Yogurt India
Priced at Rs 38 per 90 grams cup, this yogurt is a little pricey. As comparison, Danone's strawberry yogurt is Rs 25 per 80 grams. But, hey, it's definitely healthier and cheaper than a Magnum ice-cream, so try it out!
Epigamia Greek Yogurt is available in Godrej Nature's Basket and Foothill.