Looking to travel urgently and considering applying for a tatkaal passport in India? Read this definitive guide before you even begin your passport application form – based on my personal experiences at the Bangalore Passport Seva Kendra in August 2016.
Mr T and I needed to reissue our passport because of 3 reasons:
Exhaustion of pages
Change of address
Adding spouse's name
I am travelling soon, so I need my passport urgently (via tatkaal) while Mr T applied through "Normal". Both of us applied through "Reissue of Passport" and not "Fresh Passport".
The first thing we did was visit http://passportindia.gov.in/ and register as new users (the 4 blocks on the left hand side of the page). 

Documents required for Tatkaal passport
Then we visited the document advisor to see what all documents were required:
Now, you would assume this list would be comprehensive, but ALAS, it is not! We happily gave our:
Old passport copies
Present address documents – We gave copies of our lease + ICICI bank statement with photo (signed and stamped) and Mr T gave the gas connection
Marriage certificate
Deletion of ECR (Emigration check not required) – Our ITR returns
We filled up the form online, uploaded all our documents (self-attested), and booked an appointment for the next day.
Annexure F – Now F***ing what?
And that's when I realised that there was another document that was required: "Annexure F" or a Verification Certificate for Tatkaal applicants.
It wasn't listed in the documents required. It just popped up once we filled up the online application form. Now this document is an incredibly difficult document to procure. If you are an ordinary person without connections, you can completely forget about it.
The document basically verifies that you are a decent person, etc, and if there is anything wrong in the certificate the person issuing the letter is liable to be prosecuted.
People who can issue the certificate for you are: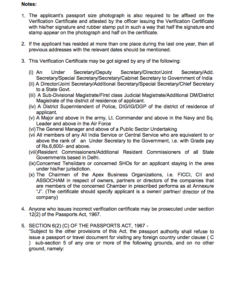 Joint Secretary level and above in Government of India (they say Under Secretary and above on the document, but that is not acceptable according to the passport seva folks I spoke to)
JS level + in State Goverment
District Magistrate type person in your district
Major + in Army / Air Force / Navy
General Manger of a PSU
SHO of your local police station
FICCI, CII, Assocham chairmen
Now I assumed SHO of your local police station would be the nicest option. So I happily visited the local police station, and the cops at the station pretty much laughed at my face. They said dream on. The SHO will only issue such letters for his own relatives, no one else. Good luck getting the letter from anyone else, either.
Then, I luckily managed to get a letter from a JS in GOI. You would think that would be sufficient. Unfortunately, the local passport seva office only accepts letters from the state you are residing in. We had to run through several hoops to get our letter from Delhi accepted.
Phew, that's all that's required for a tatkaal passport?
Dream on. Your verification letter will be re-verified via fax. Who uses fax in today's world? The Government of India, that's who. So again, be prepared to jump through several hoops to get this done in a timely manner.
That's all then?
Yes, pretty much. The guy at the Passport Seva tried to insist I produce an "Annexure I" document, so please check that out as well.
My passport was printed the same day as Mr T's was (and he applied via the normal channel.) Lesson of the story: Apply via normal if you can. It's equally fast and won't drive you mad. This is how long it took him via Normal:
– Day 1: Applied online
– Day 2: Submitted documents / biometrics at Passport Seva Kendra (very chaotic, took 3 hours)
– Day 3: Police verification happened
– Day 5: Notice that passport has gone for printing.
Lastly, if you have applied for your tatkaal passport online, you can change it to normal at the Passport Seva Kendra itself.