Around six years ago, I noticed I was having teeth problems: mainly bleeding gums and slight nerve sensitivity. I also needed fillings in my molars. I was using mainly Colgate or Pepsodent at this time.
And then I stumbled upon the best toothpaste in the world: Dabur Red! (Remember all the Dabur Lal Daant Manjan ads on tv? Well, Dabur Red Toothpaste is the modern equivalent!)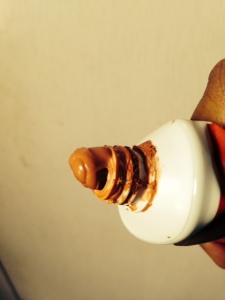 What is great about this toothpaste? Firstly, it's made of awesome natural ingredients including clove oil (long ka teil), pudina, tomar beej, and sunthi (ginger). All these natural ingredients do an amazing job killing germs, reducing sensitivity, and keeping your gums teeth strong.
My experience: My bleeding gums stopped soooo long ago that it's become a distant memory. My teeth feel strong and there is absolutely no sensitivity when I eat hot things or cold things (MMmmm-ice-cream!) Moreover, I don't even remember the last time I had a filling!! It's been that long. The toothpaste keeps your mouth fresh really long (the clove oil + pudina combination) and is delightfully strong. The BIG bonus is that is is completely natural — no evil chemicals (no fluorides — although it does have chemical preservatives).
The negatives: The toothpaste is actually red in colour, so it will leave your toothbrush tinged with red when you're done brushing. Still worth it. The flavour is also VERY strong. I've had a few friends try it who think it's too strong for them. I keep telling them that they are idiots.
Price of Dabur Red Toothpaste: 200 grams for Rs 84 in the market.
Online: On Amazon.in, Dabur Red Tooth Paste – 200 g (2 pack)
 available for Rs 114.