Another chocolatey review! I have had the honour of experiencing Royce' fine dark chocolates (in Mumbai, Delhi  & New York). Experienced is the correct word because this is a luxury experience for your taste-buds. The flavour of good quality cocoa is unparalleled. I've written about my favourite cocoa brand before, and these chocolates are of the same league.  But before that, a little bit before the brand.
Royce is a Japanese brand which is now available in India in Mumbai, Bangalore and most recently New Delhi (Ambience, Vasant Kunj).  What's so special about it? They use the finest ingredients sourced from all over the world and make it in pretty much the cleanest place on earth (Hokkaido, Northern Japan — also a great wildlife refuge!) The chocolates are wrapped with typical Japanese precision (box within a box within a box within a box).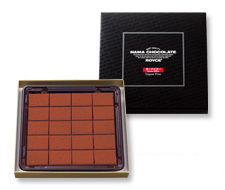 I have sampled a lot of their chocolates, but prefer to go for a box of their Nama Chocolates (Ghana Bitter and Ecuador Sweet). These are dark, dark, dark soft, truffle-like chocolates which quite literally melt in your mouth. The chocolates must be maintained at a certain temperature because they don't contain any preservatives. They're finely coated with cocoa powder for a divine experience!
How much do Royce' chocolates cost? From what I remember, a 125 grams / 20 piece box of Nama chocolate costs between Rs 1000 to Rs 1500. Slightly expensive, but well-worth the quality.
Where to buy Royce' chocolates? See below.
Mumbai
ROYCE' Palladium Shop
Ground Floor Palladium,
High Street Phoenix,
Senapati Bapat Marg,
Lower Parel,
Mumbai, 400013
TEL: (91)22-4295-1234
ROYCE' JW Marriott Mumbai Shop
Bombay Baking Company,
JW Marriott Mumbai,
Juhu Tara Road, Juhu,
Mumbai, 400 049
TEL: (91)98-3391-3309
Bengaluru
ROYCE' JW Marriott Bengaluru Shop
Bengaluru Baking Company,
JW Marriott Bengaluru,
4/1 Vittal Mallya Rd,
Bengaluru 560001.
TEL: (91)88-8493-0234
New Delhi
ROYCE' Ambience Mall Vasant Kunj Shop
Ambience Mall,Ground Floor,
Nelson Mandela Road, Vasant Kunj,
New Delhi 110070
TEL: (91)11-4087-0080