Like most Indians, I love my milk, especially a glass of cold milk with nothing on top. And my love for milk expanded immensely when I discovered Danone Milk & Kiaro Milk, available in leading supermarkets in India.
Milk in India: A Stale State of Affairs
Most houses in India will always have a pot of milk on the stove, boiling away to glory. The milk usually comes from limp packets of toned milk available at Mother Dairy or Nandini or the government cooperative of your choice. Thin milk with floating droplets of yellow oil that needs to be boiled before consuming — no thanks! Over the last few years of running my own house, I've have leaped as far away from the Mother Dairy's and Nandini's of the world (still a fan of their ice-cream though), and found the tetra-packs of Danone, Amul & Nestle, and lastly, farm-fresh Kiaro Milk.
Danone Milk Review – Tetra Pack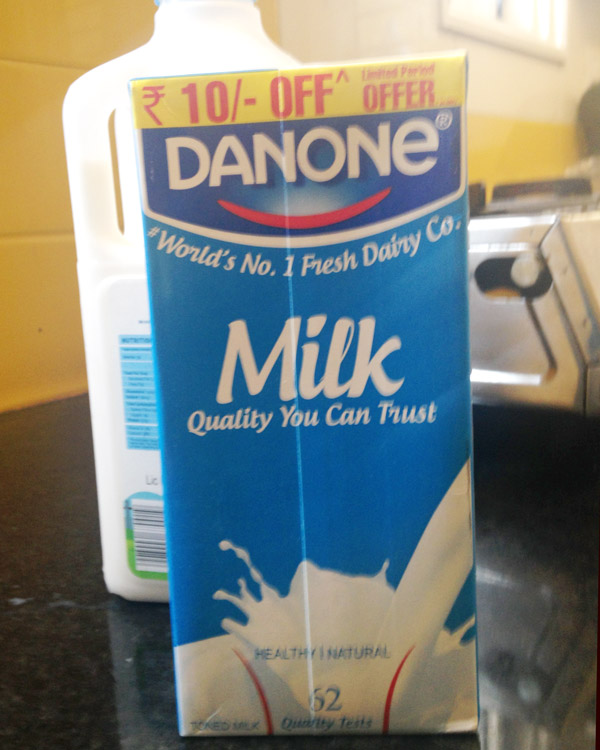 If you want milk that's rich and creamy and malai-free, look no further than Danone. This is my go-to choice of milk when I can't get fresh milk. Priced at Rs 75, Danone Milk is obviously more expensive than Amul or Mother Dairy, but it's damn tasty. You can cut open the pack and drink a glass of plain milk straight from it. Cold coffee, chocolate shakes and fruit shakes haven't tasted better. I am not a fan of Danone Slim milk — why pay the same price for milk that's diluted with water? Just add your own water, I say, and get more milk for the buck.
While Danone milk tastes great, I'm a little suspicious of the tetra pack. Any milk that lasts for 180 days unopened should have some sort of preservatives right? Wrong. I was also mis-educated about this, thinking that Danone definitely should have some preservatives. However, the ingredients list only "toned milk". No preservatives. None. The answer lies in the tetra pak technology:
The aseptic packaging technology is Tetra Pak's key innovation and has to a large extent paved the way for the Tetra Pak system's success. In aseptic processing the product and the package are sterilized separately and then combined and sealed in a sterile atmosphere, in contrast to canning, where product and package are first combined and then sterilized. When filled with ultra-heat treated (UHT) foodstuffs (liquids like milk and juice or processed food like vegetables and preserved fruits), the aseptic packages can be preserved without chilling for up to one year, with the result that distribution and storage costs, as well as the environmental impact, is greatly reduced and product shelf life expanded
Source:Wikipedia
Nestle A+ Toned Milk Review
Priced at Rs 75 as well, Nestle A+ is the main competitor to Danone Milk. For whatever inexplicable reason (probably brand loyalty) I prefer Danone. Netsle A+ Slim is priced at Rs 72, and again seems just to be a diluted form of the thicker toned milk
Amul Taaza Toned Milk- Tetra Pack
Much cheaper than Danone or Nestle, Amul Taaza is priced at Rs 58. Having said that, I am not a fan. The milk is thinner than Danone and it once turned extraordinarily bitter when left open for too long. (This may also happen with Danone, but man, accidentally tasting bitter milk is an experience that will put you off Tetra Packs forever!)
Kiaro Milk Review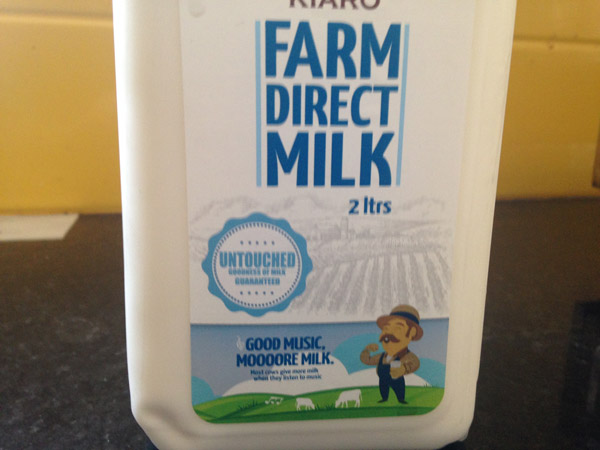 My love for milk escalated a few notches when I discovered Kiaro Farm Fresh Milk at the local Nature's Basket. This, my friends, is what 'foreign milk' looks and tastes like. A lovely (probably eco-unfriendly) plastic bottle with lovely graphics and delicious farm fresh milk. From their website: "The name Kiaro itself, derived from the Italian language means clear and bright, and symbolizes the purity of the first beam of sunlight."
What makes Kiaro Milk different from Danone and tetrapacks?
It comes from a farm directly to your doorstep (or Nature's Basket's doorstep). No middle men adding strange things like washing powder to your frothy milk! So it is pure and it tastes great!
The cows are not our skinny Indian variety, but foreign cows, holstein friesian cows to be precise. These are big, healthy fellas who produce tasty, tasty milk
They are fed healthy ingredients (directly from Kiaro farms) like maize, alfalfa and stuff and thus produce healthy, tasty milk
They are happy cows!


It's a known fact that happy cows give more milk. And what better way than music to build a happy space! We play soothing music in our barns throughout the day so that our cows relax and stay happy. The results are evident in the quality of milk that our cows produce.

The milk expires in 3-4 days when refrigerated, so you know for sure there are no preservatives. In fact, when we left the milk out (exchanging fridges) for a 5-6 hours, the milk actually turned sour
Add that and a mantastic Milind Soman to the mix and, umm, a certain amount of drooling has to take place!
Healthy breakfast tip: Supplement Kiaro Milk with Keggs eggs for a nutritious breakfast!
Kiaro Milk Price & Availability
Kiaro Milk is available at Nature's Basket (offline, not online) and ZopNow online. However, I don't recommend you buy it online. ZopNow once delivered sour milk to me (meaning they probably left it unrefrigerated for too long while transporting.)
Kiaro Milk is priced at Rs 80 for 1 litre, and Rs 160 for 2 litres, so not too much more than the tetra-packs; for the taste and quality, I would definitely recommend it.