Life has become so much simpler ever since Dunzo found a place on our phones. You know all those pending things in your to-do list that you want to get done, but just can't find the time to make it happen? Well, Dunzo makes it happen!
An App that does everything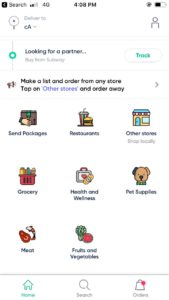 Living in Bangalore, one can feel the ebb and flow of start-ups and start-up cash. Sometimes, I feel that VCs should ask me where to put their money — because as a user, I can clearly tell them what works for me and what doesn't — without getting lost in projections and numbers that don't mean anything. For instance, I would tell them that Licious has changed the way I buy meat or Epigamia has figured out something right with all their delicious yoghurt varieties. On the other end of the spectrum, I will tell them that Nature's Basket is a lost opportunity or Urban Ladder isn't really working for me anymore (need to update these two reviews soon).
An example of WHAT IS working is Dunzo, an app that gets s*** done. On this app, you can buy groceries, medicines, order from restaurants, send out couriers, or even get random things picked up from all over the city. One of the first few times I used the app was to buy 10 packets of cinammon from a specific store around 15 kms away from my home (an uncle requested it). But most of my usage has been for sending couriers, buying medicines or groceries nearby, or getting Mr T's tiffin box delivered when he's left it at home by accident.
How does it work?
You place your request, the apps connects you with their team of riders, and the rider goes and does your job for you. For example, if you are buying medicines, you specify what you want and in what number, and the rider goes to the chemist, picks up the items, and sends you a photograph of the items for you to verify. When you say okay, they will bill the item, share the bill via a photograph and then ask you to pay online before delivery. Easy peasy!
What is it good for?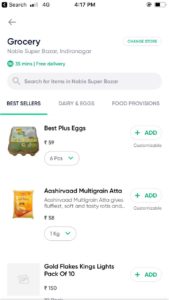 Picking up groceries or medicines locally. Update 2019: No medicines allowed on the app. Sad 🙁
Get couriers picked up
Ordering items from restaurants that don't deliver via Swiggy / Zomato OR when you want something specific that's not on the menu
Getting random stuff done through out the city.
Pricing
At present they are charging Rs 10 – Rs 20 for all deliveries close by. Their choice partners deliver for free. For deliveries from further away, they charge based on the distance.
How could they improve?
Here's some feedback from a user:
Some shops have certain items listed but most other items not listed. For example, I can't order eggs from Nature's Basket because its not listed. I have to take a circuitoius route to get this done.
Ordering from restaurants is a bit of a pain because the full menus of several restaurants aren't listed. (I believe they are working on this).
There is some sort of delay in the chat, which makes okaying the images difficult
Payment before delivery is a little painful as well. In some cases, when the payment hasn't been made, delivery guys keep hounding us. I'm not running away, and I will use your app again, please don't bug me when I'm working.
When ordering groceries, the delivery guys often buy new cloth bags (costing Rs 35 – Rs 50 per bag), which is quite a waste. I would rather they carry their own bags, and do an exchange with me.
Having said that, Dunzo is miles ahead of its competitors! I've used MeraTask in Delhi, and while the delivery was fine, the app was a disaster!
Referral code
You can use this referral code to get Rs 150 free on the Dunzo app, when completing an order over Rs 200.
Dunzo Referral code 2019: 82WfYm
Overall, Dunzo has definitely changed my life for the better 🙂 — and I would recommend it highly to everyone!