I have been a huge Kindle fan for the last 7-8 years, and thus, when Amazon launched the Kindle Unlimited program I should have been excited. Right?
But I wasn't. Paying writers on a per page basis sounded like capitalism gone wrong. Kindle Unlimited seemed to be celebrating writing that was long and meaningless and promoting writers (or ghosts) who loved to churn out manuscripts after manuscripts without any love for the story or the art of creation. Bigger isn't always better.
From a readers perspective, the range of books sounded limited. I'm a lover of fiction so I thought the books would be mostly self-published self-help books. Bleh, who needs that.
All that changed last month when I subscribed to Kindle Unlimited in India. I wanted to buy a book and I realised the MRP for the book was higher than the Kindle Unlimited subscription fee for a month. So I decided might as well give it a shot.
How does Kindle Unlimited work?
Kindle Unlimited is your local library (remember those days) floating somewhere above you in a cloud. Just visualise it: hundreds of shelves lined with thousands of books floating among some nimbus clouds. An old librarian, hair in a bun, with in a pince-nez perched on her nose is scowling at your joy. But it is true. It is a library in the cloud.
You ask her for books on war and, unsmilingly, she points you to a cabinet of old-school catalogues. You browse through the cards till you find a book you like. Then, with one button, you download the book from the sky onto your Kindle.
Wait a sec, there are some other books you like. But how many books can you issue on one membership card? You squirm towards the librarian and ask her. 10 books, the librarian says morosely, looking pained at the fact that you are going to take away 10 of her precious books.
Kindle Unlimited Read for Free?
Well, not exactly for free. You do have to pay a monthly membership fee? Kindle Unlimited costs Rs 199 per month for the basic subscription plan. If you subscribe for 6 or 12 months it goes down.
On what devices does Kindle Unlimited work?
It obviously works on the Kindle. I use it on my Kindle Paperwhite and I have to confess, the shopping interface to borrow new books is painfully slow and laggy. It takes you back to 1933. Remember those days?
If you are looking to buy a new Kindle, read my reviews of the various Amazon Kindle devices in the market at present.
You can also browse on the Kindle e-Readers on Chrome or your phone or wherever you want basically.
How is Kindle Unlimited in India?
I was initially very skeptical of the books available on Kindle Unlimited. I am not a fan of Chetan Bhagat (read review) and I don't want to read rubbish on how to make 5 Gazillion Dollars in 5 days. I want to read good fiction and do some good quality research for my other books.
In terms of fiction, while limited, Kindle Unlimited pushes you to go beyond your usual authors. You should browse their lists and discover new authors instead of harping over the fact that author XYZ is not available. I've been reading the ENTIRE Harry Potter series again (I'm on Book 3 and it's super therapeutic) and I've discovered the writings of Amrita Pritam (an author I had vaguely heard of but never plunged into).
Aside from that, I'm browsing through several other books for research. All for Rs 199 a month. That, my friends, is a good deal!
What I find makes Kindle Unlimited awesome is that I want to read more and I want to explore many more books. I find that my reading has increased tremendously over the past month.
What I don't like about Kindle Unlimited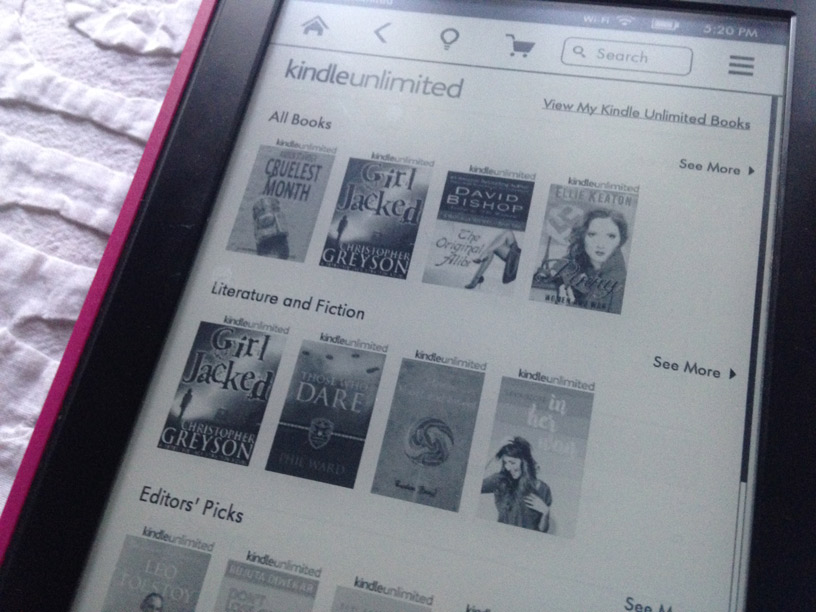 The Kindle shopping interface sucks – and so it is not the easiest or most joyful task to browse through books on the Kindle
10 book limit – Yes, while I can't read more than 10 books at a time, I wish Amazon would remove this restriction. I can't easily add books to my Unlimited wishlist so I have to add them to my library and then when I want to read other books I have to delete my previously borrowed books. So I have no idea what those previous books were.
Quality of some writing – Some of the writing is either plagiarised nonsense or not very well-edited drivel. This is especially true in the non-fiction section. In the fiction section, I think there are certain authors that are writing very well, and quite happy with the Unlimited scheme of things.
Nonetheless, I have great hopes for Kindle Unlimited — both for readers and writers. It is a celebration of everything literary!