I consider myself a Kindle connoisseur having had one or another for almost seven years now. My first Kindle was just called Kindle. It had a keyboard on the bottom and buttons on the side to flip through pages and no backlight. It connected through WiFi (no 3G) and I loved it dearly. It was the closest to the All-New Kindle Wifi ereader, 6″ Glare-Free Touchscreen Display.
Unfortunately, a few years ago, I sat on it, breaking the screen and my heart. So now I am proud owner of a Kindle Paperwhite Wi-Fi (with cover/case to protect it from scratches and people like me.) I never felt the need to purchase the New Kindle Paperwhite 3G e-reader
, and I will tell you why:
---
Available for a special promotional rate of Rs 4,999, this is the old school Kindle. Here are the 'salient points':
Mostly importantly, it has a touchscreen display, which feels exactly like reading a real book.
No harsh lights attacking your eyes (I have terrible eyes and this is a very important deciding factor for me).
Unfortunately, no backlight. If you are wondering whether you should go for this model or Paperwhite (with backlight) — go for Paperwhite. If you are a voracious reader, you will probably be reading in low light / dark situations. The Kindle Paperwhite doesn't hurt your eyes either.
You can navigate through pages with a flick of the touchscreen (although I preferred the side buttons of the previous generation Kindles).
The battery literally lasts forever. Weeks and weeks, without charging, especially if you turn the WiFi off (airplane mode)
Stores loads of books, more than you can read in several years.
Pretty thin: around 1 cm.
My previous generation Kindle even had sound support (you could load some Mp3s and listen to music wherever you went.) For some reason, probably to promote Amazon Fire, they got rid of this. Bad move, Amazon. I loved the feature.
The user experience browsing various through Kindle store on the device isn't great (laggy) and so is flicking through pages (laggy). This is true for all versions of Kindle, but you get used to it!
(See / Buy on Amazon.in)
---
Available for Rs 9,999. This is the Kindle I currently use. It has backlight and connects to the internet only via WiFi.

Has backlight – this is not harsh on your eyes at ALL. I don't know what technology Amazon uses, but its awesome. I have terrible, terrible eyes and using the iPad for a while hurts my eyes. The Kindle Paperwhite DOES NOT! Have no qualms, this is the best Kindle in the market.
Has WiFi – you connect to the internet only through WiFi and not through 3G. This means if you are walking down the street and desperately feel the urge to buy a book and there's no WiFi, you won't be able to. But come on, how many times do you get an 'urge' to buy a book that you can't control till you are in a WiFi zone. For me — it's never. Which is why I recommend the Kindle Paperwhite Wi-Fi vs 3G.
Battery lasts long (same as above, perhaps a little less because of the backlight.) Switch off WiFI and it will last forever.
Lots of memory for LOADS of books
Again, pretty thin: around 1 cm.
(See / Buy on Amazon.in)
---
Available for Rs 12,999. This is the Kindle that has 3G, which means you have internet on your Kindle wherever you go.

It has all the points above mentioned above
It has also 3G connection, like your mobile phones, which means you'll have internet wherever you go.
This 3G connection is free in India (for now) — no monthly charges; Amazon pays the 3G charges. (I'm a little skeptical about this; I think they may make you pay in the future.)
Now I don't know about you, but for me the Kindle is meant for reading books and not browsing the internet (there is a strange experimental browser on the Kindle which doesn't really work). In fact, the internet is such a big distraction in our lives everywhere where we go. I definitely don't want it impinging on my reading time (spending more time browsing new books, using the experimental browser than reading new books). And it takes me at least a week to read a decent book. Within a week, I'm pretty sure I'll have access to a WiFi connection. Hence no need for Kindle Paperwhite 3G.
(See / Buy on Amazon.in)
---
Haven't had the chance to use the Kindle Voyage Wifi
, but it looks good. I'm not sure if it's worth the price (Rs 16,499) since the features do not seem to be too different from Kindle Paperwhite (Wifi).
The differences:
Better resolution: 300 ppi in the Kindle Voyage vs 220 ppi in the Kindle Paperwhite. Supposed to read more like paper. (Haven't used it yet, so comment on this).
Buttons oh buttons: This was my pet peeve with the Kindle Paperwhite! The buttons on the side of the screen (both left and right vanished!). Amazon has done well by bringing the buttons back.
Adaptive front light: Automatically adjusts brightness according to time of day. That's kind of cool.
Thinner and lighter: Than the Paperwhite. Super!
Overall review: 
I think it's a good update from Amazon, reworking the Kindle according to user experiences. However, is it worth spending the extra Rs 5000? I'm not sure. If you're an existing Kindle Paperwhite user, I'd say no need to upgrade.
However, if you're planning on getting a new Kindle Paperwhite, you should check this one out. Available on Amazon.in for Rs 16,999.
The Kindle Voyage Wifi + 3G
seems a little too expensive according to me, priced at Rs 20,499
.
---
To be honest, I would never spent Rs 27,999 on a Kindle, no matter how good. Sure, the Kindle Oasis is the "thinnest ever" and has the "best resolution ever" — but man, it isn't worth the price tag. As you can see from the chart below, basically the only other differences are "Page Turn Buttons" (which is what my first Kindle had!) and extra long battery life.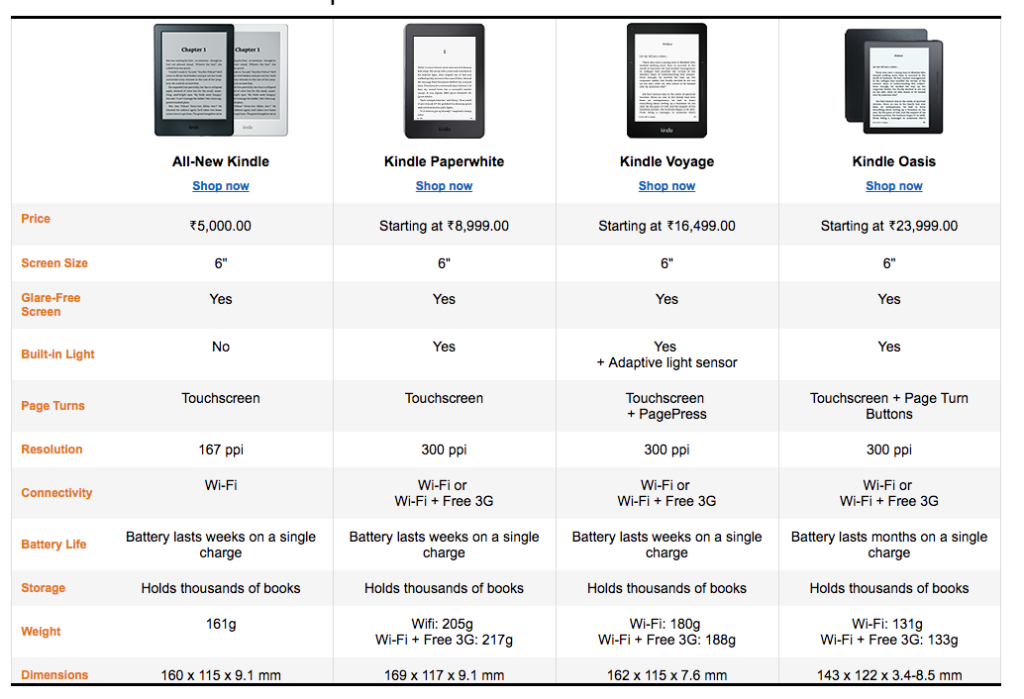 ---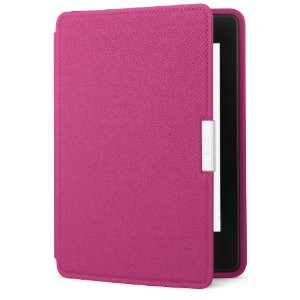 After sitting on my Kindle (sigh) and cracking the screen I highly recommend that you  buy a Kindle Cover (official)
 or one of the generic brand covers
. I bought the official leather Kindle cover (fuscia) and quite love it. Colour is bright and vibrant after almost 2 years of usage, no signs of dirt or damage, protects the Kindle fantastically and has a magnet that snaps the cover shut. Also, in years of using the Kindle, I have discovered that the cover can be used as support to hold up the Kindle when you are lying in bed horizontally (no hands!) 🙂
---
An awesome range of Kindle E-Books
 are available on Amazon.in. Prices are usually much cheaper than print books (which is great) and cause no clutter in your home (woohoo). Some international books are not thaaat much cheaper, but there are a whole bunch of free Kindle e-books to start you off.
 Also, Kindle uses .mobi file type so you can always upload mobi files directly from your computer to your Kindle.
---
Yes, we've reviewed Amazon Kindle Unlimited as well. Read more here. 
---
Yes, we've got some Kindle India coupon codes available as well. Please visit this link to know more: Amazon India Kindle Coupon Code – Paperwhite / Voyage / Oasis