While investors get hysterical about hyperlocal online grocery shopping in India, we take a look at the consumer's perspective of online shopping by reviewing some of the leading grocery websites and apps. (Disclaimer: These reviews are a reflection of our experiences in Bangalore alone.)
BigBasket – The Shah of Online Grocery Shopping
BigBasket is pretty much the king of online grocery delivery in Bangalore (more so since Shah Rukh Khan has become their brand ambassador). We've been using BigBasket's services for the last 9 months and have had both good and bad experiences. (I had reviewed BigBasket earlier, but it's been a while so time for a new review).
BigBasket Positives
Range of items: BigBasket has the greatest range of items we've seen yet. From fruits and vegetables to detergents to gardening goods (soil, seeds, pots) to meats, BigBasket has it all. This is a huge plus point. Grocery shopping can be a pain — and having all your shopping done in one place is a great bonus.
Quality of vegetables: With it's own label (Fresho), BigBasket offers a standard of vegetables and fruits that I haven't seen in other portals. Fruits and vegetables are usually quite clean and mostly fresh. (I have had an instance of a cauliflower with a worm on it).
Online meat shopping: For some reason, very few of the other sites offer fresh or frozen meat products. This is a pain, I tell you. If I have to go to my local store to get my chicken and fish, I might as well buy everything there. BigBasket is one of the few portals that offers both fresh and frozen fish, mutton, chicken and even pork. (We do not buy fish from BigBasket after our experience of 1 fish with 2 heads.)
User Experience: The ease of shopping on BigBasket is the one reason I keep coming back. Items are easy to find, easy to add to your basket and easy to checkout. That's what I want from my online grocery shopping experience — ease and simplification! Things like 'Smart Basket' and 'Recommended Products' make it easier for me as a returning user. I haven't tried their 'Shopping List' yet, but all of these things make my experience at BigBasket much smoother.
Discounts & Savings: They almost constantly have a discount running (For example, the current coupon code is BigSave5 where you save 5%). More than that, quite a few products are at discounted rates. I've saved approximately 10% over the last 6 months.
Customer Service: When things go wrong, the BigBasket team is quite rapid in fixing issues (usually within the day). They used to refund a percentage of the total delivery for late deliveries or items not delivered, but I have not seen that happen in my account of late.
Adding other items: How many times have you placed an order only to remember that there are no lemons at home? It happens to me all the time! BigBasket makes it easy to add items after placing your order. Simply add whatever you want and choose the same delivery slot. No delivery charges will apply. (I don't know how this works when there are no delivery slots available.)
App:  The app used to be crap! But no more. The new BigBasket app is easy to use and doesn't crash. (I still prefer shopping on the website).
BigBasket Negatives
Lack of Delivery Slots: This is my biggest grouse against ALL the online grocery shops. Same day delivery? Bloody joke. Usually on BigBasket I don't get a slot within the next 24 hours. For example, this very morning I wanted to order ID Dosa Batter so that my maid could make dosas tomorrow at 10 AM. The earliest slot available was for tomorrow 7.30pm to 12.00pm. If I have to plan my shopping 2 days in advance, it's really inconvenient and quite a joke. (BigBasket sent us a mailer a couple weeks ago saying that they had more delivery slots as well as a new logo and Shah Rukh Khan as brand ambassador. The only bit of that news that excited me was more delivery slots — and now that also seems to be a farce.) 
Delayed Delivery – Before last month, BigBasket NEVER delivered on time in my part of town. That situation has improved over the last month. 
Incomplete delivery – Online shopping makes you forgetful. Especially when you place an order today and receive your goods 2 days later. This is a problem because when you shop online, there are so many people involved that there are invariable screw ups. With BigBasket, I usually have to check to ensure that all the items I have ordered have been delivered. There have been several occasions when things I have ordered haven't been delivered.
Out of stock – Oh my button mushrooms! It is impossible to order button mushrooms from BigBasket because they are invariably always out of stock. Or take today for instance, when Amul Butter is out of stock. How can Amul Butter EVER be out of stock?
Broken products – I order a lot of gardening tools and stuff from BigBasket. Often my pots have come damaged or my watering can leaks. BigBasket doesn't pack items very well — simply dumps them in crates.

Payment gateway
BigBasket.com Verdict
Definitely our favourite out of all the options.
---
Grofers – Mixed Emotions
I reviewed Grofers only last week, and again have very, very mixed feelings about Grofers services.
Grofers Positives
The bags and boxes: Haha, maybe it's the designer in me, but it really makes me happy to see my groceries delivered neatly in beautiful cardboard boxes or eco-friendly orange cloth bags. 
The delivery boys: They are always dressed neatly, speak politely, and deliver in a timely manner without annoying me for directions to my house
The icons & UI of the app – The Grofers app is one of the few apps in India that is visually appealing. It's been designed well, even though the user experience could improve somewhat (quite a bit).
The speed: I used to like the speed of Grofers — click on order and it will be at your doorstep in a couple of hours. However, of late, delivery slots have become
Variety: From vegetables and fruits to flowers and staples to breads, it's an interesting combination that's available on Grofers.
Immediate money-back: If your order doesn't meet your expectations or there is something missing from the order, the delivery boys give you cash back at your doorstep.
Grofers Negatives
Quality of fresh produce: The quality of vegetables is very temperamental. When I first ordered from Grofers, the vegetables delivered from Mother's Love (I'm guessing Grofers own private label) was of excellent quality. However, my last order was AWFUL. The baby potatoes I ordered were rotten and stinking (I threw them away immediately), the baby corn was also stale and darkening black (threw away a couple pieces) and the bananas wrapped in cling film were crawling with fruit flies (haven't thrown it away yet).

Amended orders: I once ordered a type of mayonnaise which was unavailable at the local grocery store and so the Grofers delivery boy used his judgement and bought a similar product. I didn't like the fact that I had no choice or say in this.
Wrong orders: I ordered a plastic broom thinking it was a bathroom cleaning broom (there was no picture on the Grofers app). However, it turned out to be this ghastly long green broom. 
Unavailable delivery slots: This is my biggest pain point. I go through all the effort of choosing my products and placing them in the basket and then when I'm finally ready for checkout I see the next delivery slot is 24 hours later. Sometimes, 36 hours later. Quite ridiculous. This has been happening more often of late.
Unavailable items: Okay, some items like 'Spaghetti' may be considered as speciality items (not really). But when you search for a product on the Grofers search bar, it shows you a myriad of options, and then when you click on one of the options, it states "No results found". WTF! Damn annoying.
No meats: Very few online grocery shops deliver fresh or frozen meats. I understand the logistic issue, but hey, if I have to go to the shop to buy some chicken, I might as well buy the rest of my groceries from there. 
App only: I am not a fan of any product that is app-only. I have a laptop and I prefer using it to do any kind of online shopping. So another boo from me!
Overall Verdict of Grofers
Sadly, I'm a disappointed user. The fresh produce is not good and the range of items is quite limited. Grofers is good for emergencies, but even for those emergencies, it may be easier to go to your local kirana shop.
---
ZopNow – Shopping Unzimplified
I tried ordering from ZopNow a while back only to find they didn't deliver in my area (aside from being disappointed with their user experience). A few weeks ago I tried ordering again from my new house. My experience, unfortunately, was no better. Before we delve into my experience, I'd like to state some positive points about ZopNow.
 ZopNow.com Positives
ZopNow has the widest range of products after BigBasket. From fruits, vegetables, and (limited) meats to cleaning supplies, cosmetics and stationary.

3-Hour Delivery Times — Just for testing purposes I checked when the next slot is available for my neighbourhood and it's within the next 3 hours. That's incredible!

Free shipping on all orders — If I had to order my dosa batter from BigBasket they would charge Rs 20 on a Rs 50 product. But ZopNow has free delivery for all 

Recyclable bags — Haven't had any food delivered to me yet, but they claim to use recyclable bags

Discount & Zoppies — First time users have a limited discount and you earn zoppies for all your purchases, which work like cash back points.
My ZopNow experience
I wanted to order ID Dosa/Idli Batter. I went to their website and great, found ID Special Dosa Batter. I clicked on the image and saw that there were two variations: 2kg and 1kg. Now I wanted the 1kg batter, so clicked on 1 kg. I found an image of a product that didn't look familiar.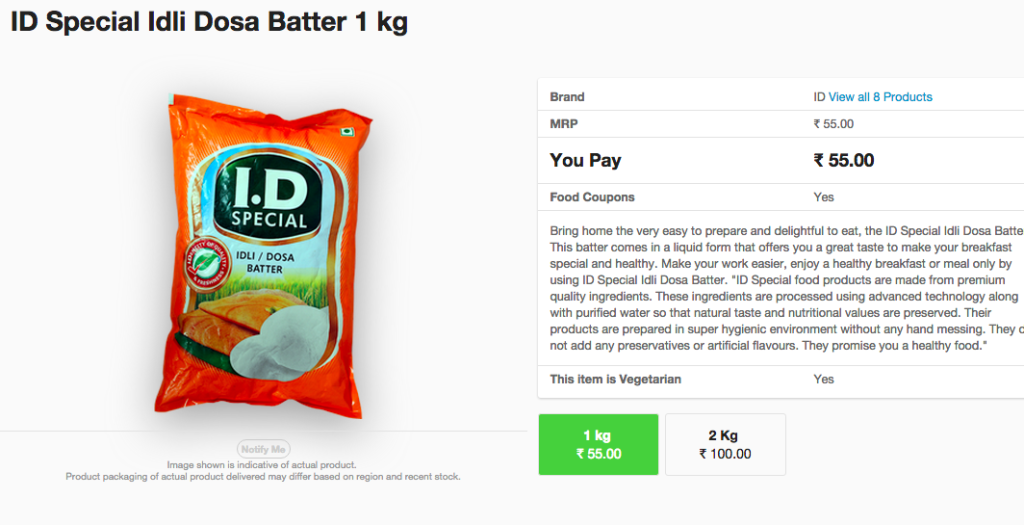 Nonetheless, I wanted to add it to my basket and check it out. And then came the big question: how???? The green box stating 1 kg / Rs 55 seemed to be the most likely candidate for a Call-to-Action button, so I happily clicked it. No change. Then what? I clicked randomly all over the screen — quite flummoxed. It was only several minutes later that I noticed the tiny greyed out 'Notify Me' text below the image. That, my dear friends at ZopNow, is DAMN confusing and I recommend hiring some good UX/UI designers to your team immediately. Firstly, the tiny text is so tiny that I did not notice it for the longest time. Secondly, greying it out makes no sense. It's an error/out of stock message so it needs to be displayed as such. Thirdly, 'Notify me' does not automatically mean out of stock. Perhaps it could mean 'Notify me' to the next ID Foods Dosa party.
Anyway — any e-commerce site that leaves the "Add to Basket" / Call To Action button to the user's imagination definitely has issues. As a designer myself, perhaps I have an exaggerated sense of awareness about this.
Overall experience of ZopNow.com
If ZopNow fixes their UI, they have a strong chance of going head-to-head against BigBasket in my opinion. I can't compare the quality of their fresh produce, so I leave that for you to test.
---
NinjaCart – Ninjas Sometimes Sleep
My battle for a 1kg bag of ID Foods Dosa Batter took me to all the major online grocery shopping sites and apps, including NinjaCart. 
My experience with NinjaCart
My first experience with NinjaCart was a few months ago when I downloaded the app after seeing an ad on either a billboard or in a newspaper. I opened the app at around 8 am only to see a notification stating something similar to 'Shop Offline'. This, in my opinion, was damn stupid so they immediately lost me as a customer. (I deleted the app only to re-download it later. Have I told you how much I hate app-only products?)
However, in my search for Dosa Batter I downloaded the app once again. At that point, the Dosa Batter was out of stock. So I closed the app and moved on. 
I will try buying some groceries from NinjaCart soon (however, my bad experience with Grofers has put me off buying fresh produce online for a while.)
---
PepperTap – The Tap Runs Dry
For some reason, PepperTap doesn't figure on my mental radar for online grocery stores. Someone has to constantly remind me that PepperTap also exists — and that's exactly what happened in my search for dosa batter. PepperTap fortunately has both an online website and an app, so I happily opened the website and searched for 'Dosa Batter'
The results weren't pretty.
So I did my next 'availability test' — searched for mushrooms.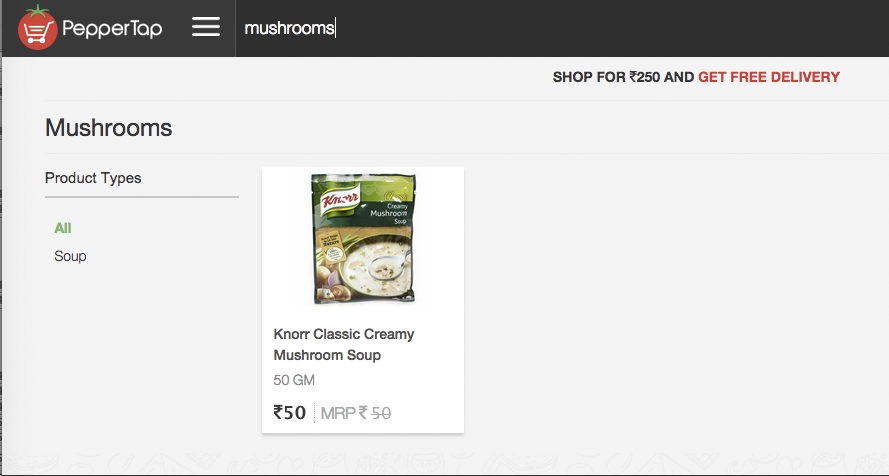 Again, not very impressive results by PepperTap.
Then I went to the Vegetables section to see what all vegetables were available. The results are quite limited to be honest — the basic stuff (tamatar-pyaaz-aloo-mirch-dhaniya) for Indian cooking but nothing more. No broccoli or pakchoi or baby corn.
PepperFry seems to be targeting the dry food/staples market more than fresh produce at the moment. This does not fulfill my one-stop-grocery shop dreams at all, unfortunately.
From a UI/UX perpsective — the website is slightly slow. The interface is relatively clean but nothing out of the ordinary.
---
Offline Grocery Shopping in India
To be honest, nothing beats offline shops as a one-stop for weekend grocery shopping. Especially since no online store sells Keggs (which My favourites include:
Star Bazaar – Best range of basic groceries (fruits, vegetables, meats, dry staples). The bakery is SUPERB! The space is large and spacious.
Spar Hypermarket – Great discounts and a wide range of basic groceries (fruits, veggies, meats, dry staples and other basic household necessities like mats, curtains, buckets, etc). Space is also large and spacious.
Nature's Basket (also have an online store which I haven't tried) — Great source of meats, cold cuts, cheeses, and other exotic items. Limited vegetables. More expensive than other options and can be cramped for space depending on location. 
Food World — Great for meats, cold cuts, cheese and even more exotic items (chocolates, delicious cupcakes.) Slightly more expensive. 
Namdhari's — Best fresh fruits and vegetables. Limited other dry staples. Only vegetarian produce. Often cramped for space.
MK Retail — Average fresh fruits and vegetables, limited meats, good supply of dry staples and household necessities. Often cramped for space.
---
Shopping for Gourmet Food Online in India
I have a confession: I love Japanese food. Unfortunately,  Japanese food is INCREDIBLY ridiculously expensive (both in restaurants and when you try and make it at home).
Amazon.in Gourmet Food Store
A few months ago Mr T decided (dreamed) he was going to make Sushi at home, so we promptly went to Amazon (which launched it's Gourmet & Speciality Food Store
recently) and ordered Sushi Rice, Mirin and a whole bunch of other ingredients. The range of items was decent but nothing out of the ordinary.
The sushi rice was DAMN expensive – Rs 300 for 250 grams. Whoa! However, the experience on Amazon.in was, obviously, without any issues, but so expensive! (The ENSO rice we bought is now unavailable on Amazon, but there is another option available.)
Foodesto
Then last week I decided I need to make miso soup at home. So I went on a marathon hunt to buy miso paste in India. (The hunt was so crazy that I started reading translated blogs of Japanese-expats in Bangalore/India!) Anyway, I stumbled upon Mumbai-based Foodesto.com which has nice range of out-of-the-ordinary food supplies, including miso paste and sushi rice. 
The package was delivered within 2 days and came nicely packed in a thermocol box and bubblewrap. The quality of the miso paste was excellent! It seems to be handmade somewhere and was much cheaper than imported options.
Sushi Rice on Foodesto is available for Rs 450 for 1kg, as a comparison. Great, great deal!