If any of you have been watching cricket lately, you'll know that the Indian captain MS Dhoni endorses Revital H Daily Health capsules, claiming it leads to better physical and mental health. What you may not know is that I've been using Revital consistently for the last 8-9 years, and I also endorse it whole-heartedly. (Yes, I just put myself into the same league as Dhoni; we roll that way.)
Around 8-9 years I was planning to go on a vacation to Leh with my family and my dad, always health conscious, decided to take us all for blood tests. Leh is at a height and the air up there doesn't have much oxygen, so you need to be relatively. Sure, no problem, I thought; I'm young, I'm fit. Then the unfortunate discovery was made that I was severly anaemic (my haemoglobin count was 8.9 where normal range for women is between 12 – 15.5.) Trip to Leh cancelled, and I was left twiddling my thumbs for the rest of the summer.
Symptoms of Anemia
I think I've been anemic ever since I started menstruating. I remember feeling so unbelievably exhausted after certain school days, especially around my periods. And of course, since my body was going through so many changes I had no idea what was normal. 
When I had low energy, I turned for the first thing I could lay may hands on to boost my energy levels: chocolates, sweets, and ice-creams. I remember even back in Class 9 or so I would reach out for a a pack of caramelised popcorn after school, just to feel re-energised. Only now I realise what a horrible thing that was for my body — sugar surges and plunges.
TIP: Later I realised that my body was craving both sugar as well as the cocoa in the chocolate. Cocoa is a SUPER natural source of iron, one of the best in fact. I have started having a glass of hot or cold chocolate with Hintz Cocoa powder a few days before, during and after my period.
Raising that Haemoglobin Level
The docs we went to recommend I take some iron supplements, starting with a sickly sweet liquid syrup called Haem Up. That lasted for a couple of weeks, till I discovered that Haem Up Gems existed (taste NOTHING like Cadbury's Gems, believe me). And so I went on a daily dose of Haem Up-ing. 
To have such a strong iron supplement was tiresome. My haemoglobin count recovered but still, it felt like I was only addressing part of the problem. Clearly my diet was insufficent, so I had to supplement my diet with something else.
Enter Revital H Health Supplement
My grandfather at this point in time was sick with general old age and malaise. The doctors started prescribing Revital to him. The next time I went to the chemist I spotted a bottle of Revital which was specially designed for women. It had ginseng extracts and iron especially useful for women, so I decided to give it a shot!
How does it make me feel?
I have felt great for the last 9 years, aside from general ailments ( and some unusual ones like Lyme disease!) I am OFFICIALLY not anaemic and have not been anaemic for the last many years. In fact, 5 months ago I donated blood and they tested my haemoglobin levels: it was at 15.2 or so! Quite awesome.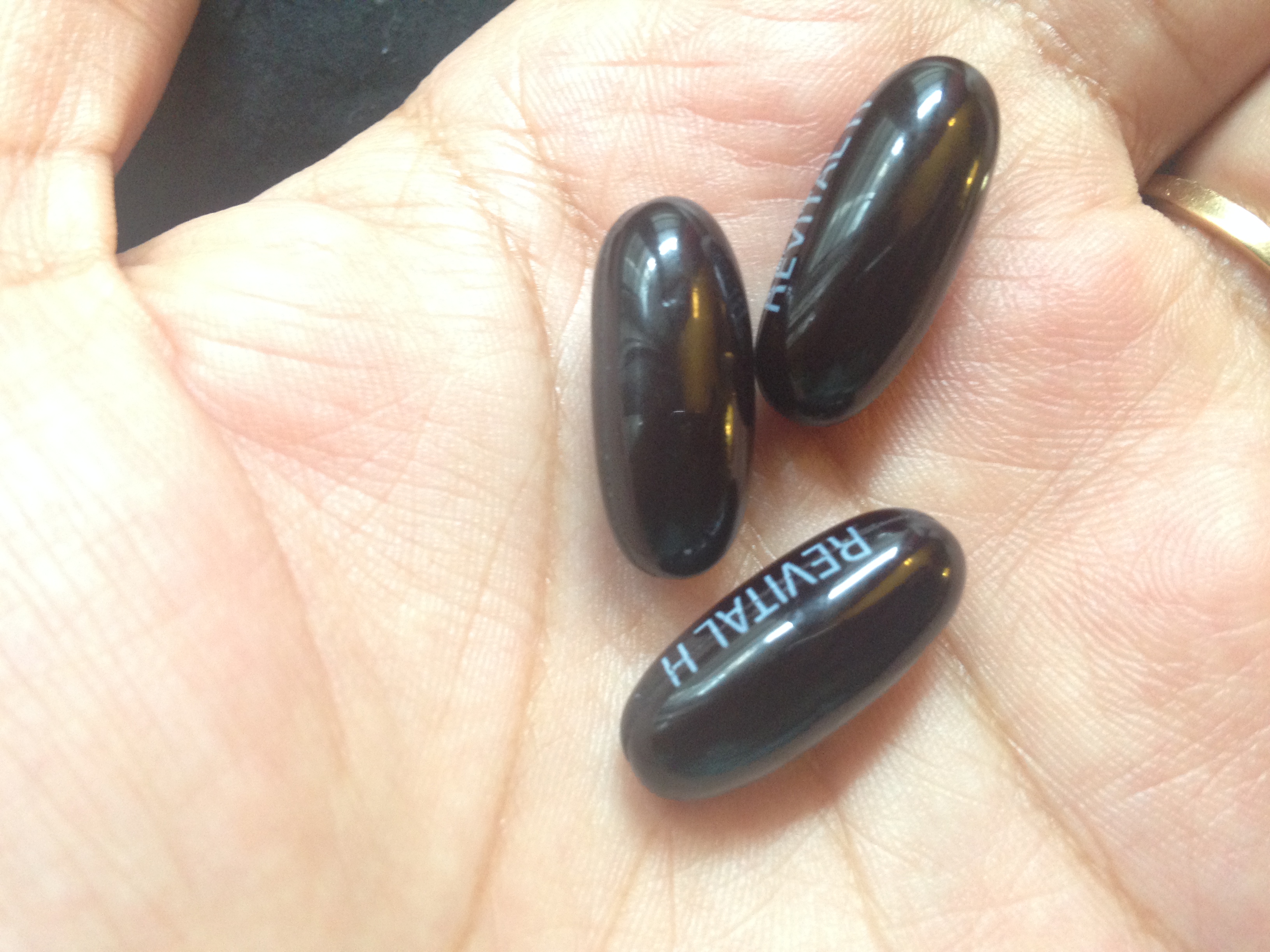 According to my chemist, Revital changed ownership recently and so the Revital for Women brand is not being produced any more. I transitioned from Revital for Women to Revital H early last year and have not faced any problem. 
What does Revital contain?
See the image below to see the full ingredients of Revital H: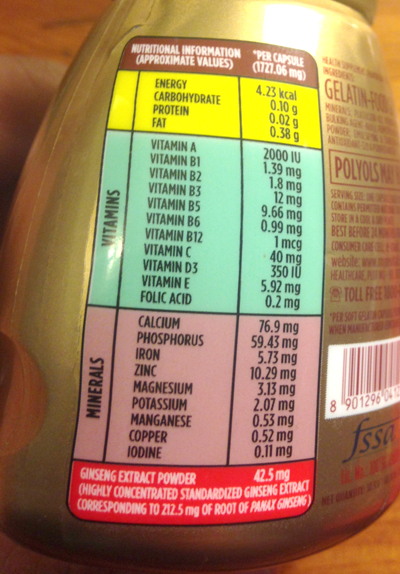 There is a side-effect of Revital which I haven't ever experienced but is written in bold on the bottle: Polyols may have laxative effectives. Yikes. 
Dosage and pricing
I do not have Revital daily, but at least 4-5 times a week. I leave the bottle on my desk and pop a capsule in whenever I feel like it. It does say that you shoud have Revital after a meal (not on an empty stomach). The MRP for Revital H is Rs 280 for 30 supplements and Rs for 60 supplements.
It is available online on Amazon.in:
REVITAL H DAILY HEALTH SUPPLEMENT 60 CAPSULES
Revital H – 30 Capsules