One of our great Bangalore discoveries is ID Foods — producer of awesome idli/dosa batter, parothas and now even chutneys. Mr T & I rejoice at the thought of crisp dosas for breakfast — and ID Foods Bangalore makes that dream come true!
Idli / Dosa Batter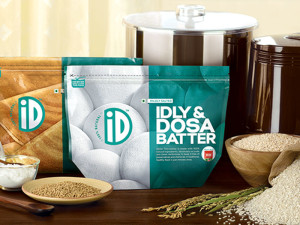 The Idli / Dosa batter comes in a well-designed resealable pouch. It feels fresh and just as your mum would make at home (my mum has never made fresh idli / dosa batter, so I may not be the best judge). Nonetheless, our maid loves this batter as much as we do. Take it out of the fridge, ladle onto a tava, add oil — and you're done.  The dosas come out crisp and soft and perfect in every way.
There are two sizes available: 1 kg pouch for about Rs 55, and 2 kg pouch for Rs 100. It's available in most shops in Bangalore — from Namdhari's to MK Retail to Star Bazaar. It's also available online on BigBasket.
Id Foods Malabar Parota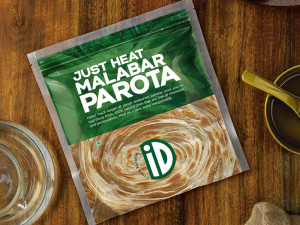 This is also perfect for those days when you want something a little fancier at home — just put a little bit of oil in a pan (we skip the oil) and heat these lovely Malabar Parotas. Perfect for dinners as well, when you want hot rotis/parathas but don't want to waste all your time on the stove.  Unlike other companies which provide frozen parothas, ID parathas are only refrigerated. Meaning shorter shelf life, but definitely fresher and with no preservatives or chemicals. These are a big hit with Mr T & I as well. The only downside is that the ingredients include maida.
ID Malabar Parota costs Rs 60 for 350 grams. Available on Big Basket and other offline shops.
Id Foods Whole Wheat Parota
The all wheat version of the Malabar Parotas, equally tasty! Costs Rs 60 as well ( for I think 5 parotas in total). Unfortunately, this is harder to find in offline shops.
Id Foods Whole Wheat Chapati
This is the only product of Id Food's that misses the mark for me. For whatever reason, the taste of fresh rotis/chapatis are impossible to recreate. The rotis are flat with a slightly different flavour compared to fresh rotis. Costs Rs 50 for 350 grams (or 10 rotis if I remember correctly).
Chettinad Coriander Chutney
We thought this chutney would be similar to the green chutney you find in the North. However, this is a completely different twist on the dhaniya chutney. It's browner in colour and has delightful flavours of the South. If you're ever having a boring meal, this chutney adds a great dose of flavour. Quite delicious! It costs Rs 25 for pouch of 180 grams. Again, fresh, no preservatives/chemicals!
Overall Review of Id Foods
Fresh food with great flavour and packaging. It's great to see food innovation done by non-MNCs — what more could one ask for? Oh yes, Id Fresh Foods – please add some fresh coconut chutney to your list of items! It will make our morning dosas perfect!