After my terrible experience with Domino's Taco Mexicana, I had little hope for the veg Calzone pocket (ordered for veggie Dadi). So when I opened the box, I was pleasantly surprised!
Appearance
It looked shockingly like the image on the cover. Two pocket shaped fluffy bready things with something stuffed in it. Hmmmm… surprised!
Flavour
The outer covering is made of doughy bread, soft and fluffy. Nothing like a calzone but not bad in itself. Dadi found it easy to eat without teeth. It's similar to a deep pan pizza crust in that sense. The inner filling was weird: I saw some greens, some paneer, some cheese sauce, some pepper. It was slightly hot and spicy. Didn't understand the flavour much though.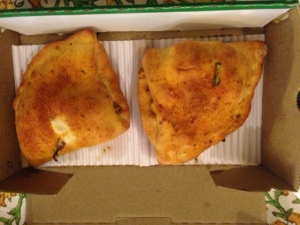 Concept
Nothing like a Calzone so super-duper fail on this front. I wish Domino's treated it's Indian customers with ome respect. We are a global, well-travelled, experienced lot. We know what a calzone is. Don't fake it with us, Dominos!
Price
Domino's veg calzone pocket is priced at Rs 89 (without taxes) or Rs 105 (with taxes). This doesn't seem to be bad too bad a rate considering the quantities are quite large. The non-veg calzone is priced at Rs 99 (without taxes) or Rs 116 (with taxes).
Last word
Would I recommend this? Nope! It's tolerable but not much more.
Read my reviews on Domino's Subwich, Taco Mexicana (ughhhh horrible!) and Spicy Baked Chicken.