Good Indian cooks understand the importance of good mixies, and despite our average culinary skills, I believe we have the best mixie in India: the Panasonic MX-AC300-H Mixer Grinder. Till date, Mr T & I were content with our hand-held blender, which made very good banana shakes, but didn't have the strength to do anything much more. And then…
Every home needs a mixie
… came Amma. She realised we didn't have a mixie, and how essential it was life, and so we went on a Mission Mixie Hunt. Amma wanted to buy something right then and there, seeing and feeling the quality of the plastic and blades. We did read a lot of online reviews before going shopping, but nothing seemed conclusive. We needed to actually see the machines to be able to decide.
We went to all the gadget stores we could find — the Cromas and Reliance Digitals and Girias of this world, and shockingly — mixies are no longer stocked in stores! All we could see in all directions was the bright sheen of plasma televisions. We found a couple of old models here and there, but nothing that really struck is. This is what we discovered:
Philips Mixie Review
In our home, we have a fabulous Philips toaster and a decent Philips juicer, and so we assumed that Philips would definitely be the right choice. But we were very wrong! We saw 3-4 Philips mixies in the store, including some Super Silent one and the Daily Collection one, and they all looked quite terrible. Why do I say so? Well, it looked like it was made of terrible quality plastic. It looked very flimsy and the plastic looked like the kind that is used to make cheap mugs and buckets that are sold on the road. The online reviews were also quite mixed, so we were very glad that we saw it before we decided to purchase it online.
We also saw some Prestige Mixies, Morphy Richards, Bajaj and Maharaja, but nothing really struck our fancy. It was an exhausting process to figure out what the best mixie is in India. Until we came across the Panasonic MX-AC300-H Super Mixer Grinder. Oh Man!
Panasonic MX-AC300-H 550-Watt 3-Jar Super Mixer Grinder Review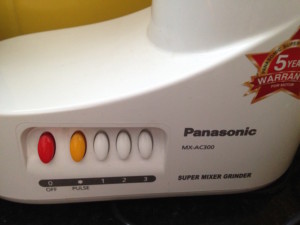 I, for one, had no idea that Panasonic made mixies! But apparently, they do, and they do a really good job. We've had our Panasonic MX-AC-300-H mixie for over a year now, and it feels rock solid. The plastic quality is great, the blades are made with some super Japanese technology (I can see ninja warriors using them!), and the motor, while loud, is strong (550 watts). The mixie has 3 speed levels to it and a very handy pulse button. The motor comes with a 5-year warranty and the entire piece has a 2 year warranty, which is much more than what we saw anywhere else in the market.
The Panasonic mixie comes with 3 jars – one small steel one for grinding masalas, a mid-sized steel one for other things, and a large plastic one perfect for shakes. All jars come with some double locking technology to prevent leakages.
The only negative I've come across is that the plastic jar tends to stain, and it's not very easy to clean things off the grooves of the jars. There are two versions of this mixie: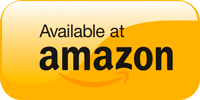 What to consider when you are buying a mixie?
Make sure the jars are appropriate for you. We recommend:

1 large jar for milkshakes – this can be plastic, but we would recommend
1 medium sized jar for this and that — Could be to make tomato puree or something stronger. A stainless steel jar is recommended
1 small sized jar for masalas — Again stainless steel is recommended because plastic tends to stain quite easily

Don't go overboard with the various jars and contraptions

Because really, how many times are you going to use the juicer? Make sure your basic needs are covered. If you think you really want a juicer, go ahead. But don't compromise on the basics for the addition of other items.

Warranties and such things

I grew up in a house where my grandmother's weekly duty was to visit the local repair guy and get the mixie fixed. I do not want to live in such a world! The Panasonic mixie motor has a 5-year warranty. Beat that.

Note: There is also a 5-Jar Panasonic Mixer-Grinder set. Check it out here: http://amzn.to/2az8ooI
Do you have a great mixie? Share your review here…