If you're searching for fast, reliable, and expensive internet in India, think no further than Airtel 4G. Launched earlier in 2015, we've all been bombarded by the (annoying) Airtel 4G girl ad — who challenges users to see if they can get faster internet than Airtel 4G. The most common reaction to the ad is.. 'Abbe, Airtel phone network nahi hai, 2G aur 3G toh nahi chalta, kya Airtel 4G nonsense?'
Nonetheless, I've used Airtel 4G at home for over a year and have an opinion on the matter.
What's great about Airtel 4G?
Fast — If you're coming from BSNL or MTNL, Airtel 4G is SUPER DUPER fast. However, for those coming from ACT Fibernet, it's not that fast. As you can see, I'm currently getting download speeds of 22 mbps and upload speed of 1.87 mbps.

Relaible — I've used Airtel 4G for over a year and it has NEVER stopped working. Now that's what I call reliable. The only time I had connectivity issues was when there was an issue with the sim card and all I had to do was take out the SIM and reinsert it.

Wireless — You don't need to drill holes thorugh your windows and have unseemly wires hanging all over the place. All you need is a modem, a sim card and a power point to plug in the modem. So simple. When we moved houses we had internet instantly, without having to call anyone to facilitate the move. 

Hotspot / Dongle — You can put the same SIM in a hotspot/dongle. Internet on the move is so easy with Airtel 4G.

Mobile phones — If you have a 4G activated mobile phone, you can get Airtel 4G on your phone for free (free SIM upgrade swap). Just log on to their website. If you have Airtel 4G on your phone, the costs are the same as 3G for now. I'm planning to get a new SIM in the coming week. From my experience, Airtel 3G network sucks in most places of Bangalore (can't even book an Ola/Uber cab easily). A friend with Airtel 4G found it much easier to book, so it's worth the switch if possible.
What's not-so-great about Airtel 4G?
Expensive

— It's damnnnn expensive. We had a 50GB package for around Rs 3000 per month. Invariably, in this day and age of streaming, we would exhaust the package within 20 days.

Slow speed after limit is crossed

— Once the limit is crossed, the SPEED is so slow that you can't even open Airtel's own page to add extra data. 

Smartbytes are expensive —

If you exhaust the package, you can purchase smartbytes, which are pretty expensive. 10GB costs Rs 1000. This made our total bill easily touch the Rs 3000-4000 monthly mark.

The modem was expensive

— Our Huawei modem cost almost Rs 6000. SO EXPENSIVE. Now I see that Airtel has another modem available on their website for Rs 2500 (after discount).  
Can I switch to 4G for free?
On your mobile phones, YES! Just get on to their website here, and they will post you a new SIM card for your existing number. 
Should I switch to 4G?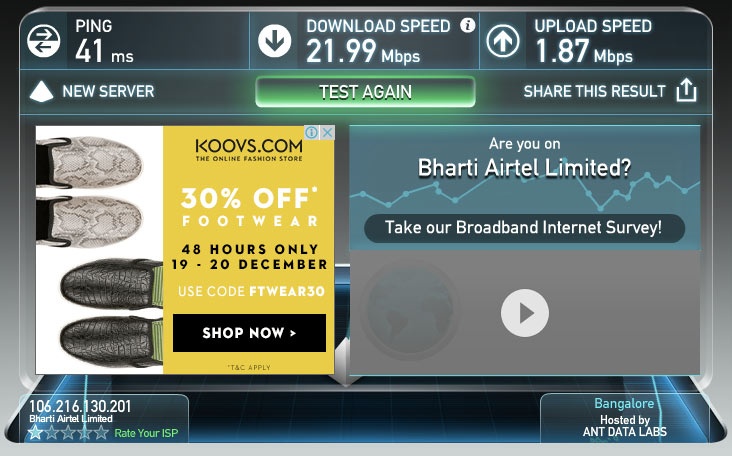 For home internet — if you have providers like ACT, I would say an emphatic NO. It's just much too expensive, and, in my experience, while ACT does go down, their service is pretty decent. 
For dongles — speak to an Airtel person before switching. It works great in cities like Bangalore and Delhi, however, if you are going to places like Varanasi, it doesn't work at ALL. No 3G option.
For mobile phones — Firstly, make sure you have a 4G enabled phone. Then, speak to an Airtel person before switching. You may not get 4G coverage in your area. Personally, I have a new phone which has 4G capabilities, hence I'm planning to get a new 4G SIM for the new phone. Two separate lines.
Overall Review of Airtel 4G
The advertising blitz aside, Airtel 4G is a good option for your phone and those living in metros. However, for home internet / wireless, I'd say find another provider.