A few months ago Mr T and I decided to go furniture shopping. The online type. We scoured lots of websites trying to find a modest dining set that would fit well into our modest home. While we found dazzling dining sets on UrbanLadder.com, the prices were also quite dazzling. Since budget was a concern, we decided to buy something cheaper that would last us for a while, till we could invest in something better.
However, there were two basic caveats: 1) Aesthetics were very important to us — we wanted something that wasn't too ornate yet beautiful. 2) It had to be a six-seater.
We saw thousands of dining sets on Snapdeal (terrible quality) and PepperFry (Dad saw some ads on TV, we checked it out and found pretty ugly stuff, with a terrible user experience/filter options).
Enter FabFurnish.com. A good user experience and good looking dining sets. Moreover, dining sets that fit into our budget.
Enter the Carolina Dining Set with Six Chairs: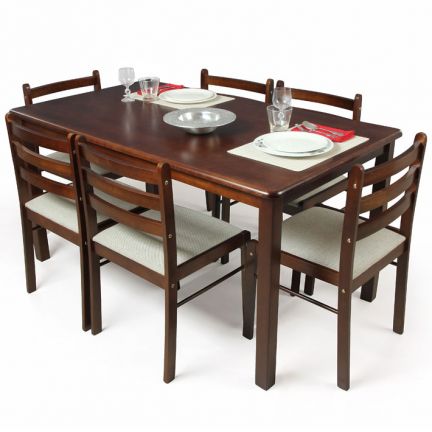 Hey looks good! Damn good! Was discounted at Rs 15990 from its original selling price of Rs 20,990. (Hmmmm… I am kind of sceptical about these kinds of discounts now!) Add to this processing charges of Rs 500 and subtract a discount coupon of Rs 3000. Total price of Rs 13,490. Not bad at all.
I was a little unsure about the quality of wood (Rubber wood). However, the reviews seemed good and there seemed to be something about FabFurnish that reassured me. Decided to go ahead and order it.
The process of ordering was smooth and without problems. The delivery was punctual and a guy came to install the furniture free of charge. (He did take unbearably long — about 3 hours!)
The problem came when we actually started using the furniture. Mr T said the chairs were kind of short and he would like to put heels on them. That wasn't too problematic for me. What was problematic was that the table length and width was so tiny that we could never fit all six chairs in (2 chairs had to jut out awkwardly). This was still bearable.
What was absolutely unbearable was our first dinner — when we hosted a couple of friends. As we were munching through our dinner, regaling in stories of yore, Mr T leaned against the side of his chair. Leaned. Not jumped on. Leaned as in adjusted his body weight slightly.
And what do we find? A piece of the chair in his hand!! Snapped off completely. Not loose from the screws or anything repairable. But snapped off! Clearly horrible quality wood.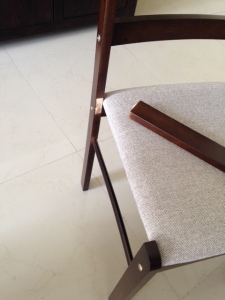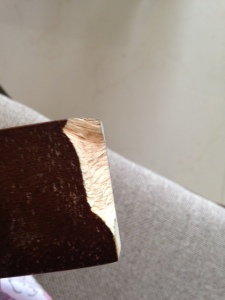 I mean if you can't use your chair to sit on — what are you supposed to use it for?
I immediately write to FabFurnish customer care. Thankfully, the chairs are under warranty (1 year I believe).
I get an automated reply and the next day Mr T gets a call saying that a technician will visit to assess the chairs. (The furniture was ordered in Mr T's name, hence, the call went to him.) The same day I get a nice apology mail saying that the 'Returns Team' will get in touch. And two mails follow about some technician visiting — scheduled, etc.
No technician visits or contacts us further.
I'm doing my accounts and see FabFurnish has credited Rs 1390 to my account. I'm confused? What is this? Are they paying for the damage to one chair?
I write to them again. Asking them specifically to call me on my number. And obviously Mr T gets the call (not me!) — saying that they are looking for a replacement. No timeline mentioned. And the Rs 1390 was probably a cashback (which took 3 months to process!!) There is no email reply to my mail this time.
Next mail I receive says "Please be apprised that the technician visit has been completed with reference to the complaint raised."
Well, no technician visited and no timelines mentioned as to when the furniture will get replaced.
Not a very fabulous experience, I must say.
A few days later, I'm leaning back on my chair and hear a gentle creaking sound. I quickly sit up — I know these chairs can't take body weight well — better to be cautious than to land up on my fabulous floor.
Update: Jan 6, 2014. A few hours after writing this post, we received a mail from FabFurnish thanking us for choosing one of their 'bestselling furnishing products'. What this mystery product is or when we should expect to receive it is a mystery. All we have been told is that when we receive it, we should contact FabFurnish's assembly team.
Update: Jan 7, 2015: Finally some clarity. Get a mail from Team FabFurnish apologizing for the defective product and informing that a replacement chair has been shipped and is in transit. We should receive it in a couple of days. Clarity! That's all we were looking for.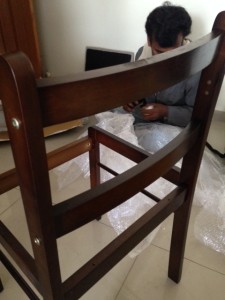 Update: Jan 16, 2015: Almost 3 weeks after raising our initial complaint regarding the broken chair, FabFurnish delivery guys finally arrived today with the replacement chair. And when they began installing the chair, they made a delightful discovery: the replacement chair was missing a piece!! I told the delivery/assembly guys to call their head office. Their response: We don't work for FabFurnish. You'll have to complain online. We're just the courier guys. And so I returned the entire (incomplete) chair back to them and wrote back to FabFurnish who reassured me and apologized for "failing to deliver a hassle-free and fully satisfying experience." Ugh. And so the never-ending saga continues.
Update: January 20, 2015: All done, finally! Replacement chair arrived with all pieces and assembled soon after. Phew. Not ordering from FabFurnish.com anytime soon!