My baby just turned 1 and we have a whole year of diaper stories behind us. Here are the best diapers in India as of 2019.
Nappies vs Cloth Diapers vs Disposable Diapers
Wondering what's best for your baby? Looking for the best diaper reviews?  I'm sure your parents/grandparents will insist that nappies are the best! And that you must leave your baby nungu-pungu for a while to air out his little bumsie. Well, that's how it used to be in their time when disposable diapers were both expensive and not of that great quality. But today you have many more options.
But first, some terminologies:
Nappy: A nappy is pretty much a piece of cotton cloth which can be tied together or held together with a safety pin. It may or may not have an absorbent layer in it. You can add other pads to absorb urine.
Disposable diapers: Pampers, Huggies, Mamy Poko Pants. You get them in several sizes and several quality levels. There are basically two options — pants (which can be worn like underwear) and the ones with tape on the sides. When your baby is young the tape ones work well, when your baby starts moving around pants are recommended. Use and throw.
Cloth diapers: These are diapers that are made of cotton and fleece and can be washed and reused. Common brands are Bumpadum and Superbottoms. They have absorbent inserts that can be placed strategically. They have buttons, so they fit like disposable diapers but are definitely bulkier. The more eco-friendly option and friendlier for your baby's bottom.
What's the best diapering solution for your baby?
Are nappies good for newborn babies? Well, you'll have to give it a try and see what works best for you. I wouldn't recommend nappies anymore — they are prone to leakages. I know a mum who barely got any sleep because she insisted on using nappies. The baby would pee and poo constantly, everything would leak, so she would spend most of her day cleaning up after the baby. Both the baby and she barely got any sleep. However, if your baby is a light wetter, this perhaps could work for you.
Disposable diapers are supposed to be one of the largest contributors to landfills. But when you are a new parent and have a hundred things to worry about, I'd say go with the disposable diapers for a few months at least till you figure out your routine.
Once you have your routine down, you should start experimenting with cloth diapers. I converted to using cloth diapers (exclusively Bumpadum) throughout the day. They were great. Held in the pee and poo, and washing and cleaning up wasn't too difficult. No diaper rashes either. However, there was leakage when the baby would sleep on his side. So we ended up using cloth diapers during the day and disposables at night.
Best Disposable Diapers in India 2019
Best rated newborn diapers: Go with Pampers Active Newbabay Diapers (yellow packet) to begin with and then you can progress up the sizes. The Pampers Active Baby (purple packets) come with sticky tape on the sides and an indicator in the Newborn size. They are better than the Pampers blue packets.
Best diaper pants: Pampers Premium – When your baby starts crawling / walking and protesting against diaper changes, pants are much more convenient. The best pants out there are most definitely Pampers Premium Pants. They also help prevent getting the rash on the upper thighs where the sticky tape rubs against the skin.
We also tried Mamy Poko Pants and Huggies – both were of low quality compared to Pampers.
Recommended Disposable Diapers by Weight
Less than 5 kgs – Pampers Active New Baby (Yellow)
3kgs – 8 kgs – Pampers Active Baby Small Size (Purple) 
7 kgs+ – Pampers Premium Pants (Light blue colour)  (see sizes below)

Pampers Premium medium size – 7kgs to 12 kgs
Pampers Premium large size – 9 kgs to 14 kgs
Pampers Premium extra large size – 12 kgs to 17 kgs
Amazon also has the monthly subscription model which is a convenient way to order diapers.
Wet Wipes – Which to use?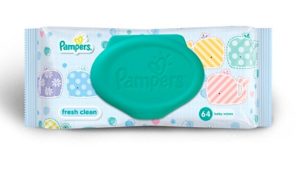 We started using Johnson's Baby Wipes. We found them better than Himalaya wet wipes — less scent and so on. However, we were always using them after dipping them in warm water. Of late, with baby protesting so much against diaper changes, we have shifted over to Pampers Fresh Clean Wet Wipes which can be used directly on the skin (feels like they have the least chemicals / additives). Apparently paraben and alcohol free.
Best Cloth Diapers in India
Now I haven't used Superbottoms and Fig & Honey, but when I did my research, I settled on Bumpadum which had the best reviews — not super bulky, very soft and comfortable, easy to wash, and leak proof. We used Bumpadum Duet diapers with regular inserts.
Cloth diapers require another post (how to wear, how to launder). I will write a post on this soon.
Diaper Rash Cream
Desitin has been our go to diaper rash cream — whenever we see the slightest hints of red, we applied Desitin. Get a big tub and apply liberally (like you're applying frosting to a cake!) If your baby is getting diaper rashes, make sure you clean and dry the area properly. Then it is equally important to keep the area moisturised. Up till 6 months, we gave baby a massage with mustard oil twice a day.
A recommended Indian brand is B4 Nappi, which was recommended by our doctor. It's cheaper and available everywhere.
Ultimate Newborn Baby Shopping List
Do make sure to check out our list here!
If you have any suggestions on what's the best diapers in India out there in India, do let me know!