If you're looking for a new home theatre that's compact but gives you LOUD, bombastic sound, then look no further than Harman Kardon SB26 Soundbar.
Mr T & I have been looking for a sound system to complement our Sony Bravia TV (which, honestly, has quite crappy audio quality). We checked out several home theatres in the market from the ludicrously expensive but brilliant Bose to the slightly squeaky Sony to a quite gorgeous Philips. 
A Soundbar vs a 5.1 Channel Home Theatre
After listening to several 5.1 home theatre systems, we were quite sure that we didn't really want to invest in so much money for having wires all over the place (my point), and since, we mostly streaming our content in stereo sound (left/right) and not via DVDs or BluRay discs, we won't even have the audio in the 5 channels (Mr T's point) — making the home theatre quite redundant.
The Sound Quality of Harman Kardon SB26 (With Bluetooth and Powered Wireless Subwoofer)
I'm a girl who loves her bass (love that bass, love that bass). And a lot of the sound bars we heard simply didn't have that oomph in the bass, especially the Sony Soundbar. 
Harman Kardon comes with a large subwoofer (look up the specs for the exact wattage) that is powerful. We have to turn down the bass on most occasions. It is connected to the soundbar wirelessly (paired via bluetooth). The soundbar is streamlined and has a button by which you can enable the surround sound mode (great for movies). The highs are crisp, no matter how loud the volume goes. This was really important to us because we were so sick of reading subtitles, instead of being able to hear the vocals clearly. 
Other Features of Harman Kardon SB26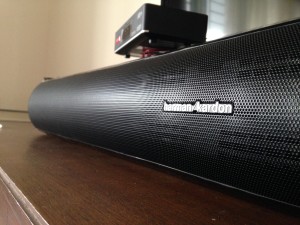 There's a bluetooth button through which you can pair your phones and play stuff wirelessly. However, you have to download an app to pair it correctly. There is an IR device for those who need it (i don't even know what it is, so I clearly don't need it). 
To connect the soundbar to your TV you can use either HDMI cables or AUX cables or, apparently the best, optic cables.
There is an ability to wall-mount the soundbar as well, so all in all a great device.
The Negatives of Harman Kardon SB26
When it comes to sound, it comes to Harman Kardon. (To know what a fan I am, read my review of Go + Play & JBL Flip). The only negative we've faced so far is that there is no screen which indicates the volume levels (when you increase or decrease them). You just have to hear it out to see if the buttons are working or not.
This is not a problem in the next version of the soundbar, Harman Kardon SABRE SB35 Ultra-Slim Home Entertainment Soundbar with Compact Subwoofer
 — which has a skinny subwoofer and a skinny soundbar. In my personal opinion, when it comes to sound, the bigger the better. All those sound waves need space to reverberate and expand.
Update: After using this product for a month, we find that the remote control of the Harman Kardon is DAMN annoying. You can't tell if the volume is going up or down and you have to angle the remote awkwardly to get the damn thing to work. The only saviour is that you can program your normal remote (our Airtel Digital TV remote) to change the volume. To do this, you have to press the 'Surround sound' button till it turns amber. Then select the – button. Then hit volume down on your remote. The surround sound button should then blink white. Repeat with the + button. Then when you are done, press the  surround sound button again for approximately 5 seconds and then the settings should be saved.
Price of Harman Kardon SB26
There is a discount running till the end of the year (December 2015), where the Soundbar is discounted from around Rs 75,000 to Rs 49,990. We got Harman Kardon SB26 Advanced Soundbar with Bluetooth and Powered Wireless Subwoofer
on Amazon for Rs 42,990, delivered in a nicely sealed package by Fedex.