Mr and Ms. T are having a baby – whom I lovingly call Little T! And along with the excitement of a new pregnancy come all the woes of pregnancy – especially during the first trimester! Lucky for me, the morning/afternoon/evening sickness hasn't been all the bad. By week 10, it is all but over. Unfortunately, there are some other side effects — one which really troubled me till a couple of weeks ago was itchy breasts.
Pregnancy Experiences – Dryness
Now I'm no doctor, so this is all based on personal experience. Soon after I became pregnant, my breasts became dry with flaky skin and super duper itchy. I would scratch and that would make everything worse — red skin that just felt itchier. The causes of itchy breasts can be:
Hormones — fluctuating hormones cause crazy things during pregnancy (like low BP — who knew?)
Growing breasts — causing skin to stretch and become sore
Dehydration — lack of moisture in the body means your skin suffers. It loses its elasticity and hence becames flaky and scratchy.
My personal experience in India
My skin woes were probably due to all of the above. I did a few things to change this. Initially, I tried applying virgin coconut oil but that didn't really help. Then I got new bras — which were a little better fitting and without padding and wiring (this helped quite a bit!) But the itching was still there.
I upped my water intake (tried to drink 3 liters of water per day in the minimum) and that did help how I felt overall (slept better as well). But no cream or lotion directly helped.
Enter The Moms Co – Body Butter and Oils for Mums to Be
I soon went to Amazon.in to try to find something to relieve my dry, itchy skin. I remember having read that cocoa butter was supposed to be good for stretching skin. But what I found was even better — The Moms Co — a local company that produces pregnancy safe skin care products right here from India!
We do live in good times!
Toxin Free Products – The Moms Co India
Of course when you have a baby growing inside you, you do start wondering about chemicals in creams and shampoos. Luckily, The Moms Co is completely toxin free.
NATURE IN, TOXINS OUT : THE MOMS CO. BODY BUTTER CREAM CONTAINS NO HARMFUL OR SYNTHETIC INGREDIENTS – Our belly cream for pregnancy from our range of best pregnancy products is made without Mineral Oil, Sulphates (SLS, SLES), Parabens, DEA/TEA, Phenoxyethanol, Synthetic Fragrances, PEGs and many other potentially harmful chemicals.
The Moms Co Review – Natural Stretch Oil
Since I was so frustrated and itchy, I quickly ordered the products. The Natural Stretch Oil was what was delivered first. This was available on Amazon.in for Rs 393, so quite affordable.
The Moms Co Natural Stretch Oil contains almond oil, olive oil, jojoba oil, sea buckthorn oil and rosehip oil. I have no idea what most of these things are, but the product works! While it looks like mustard oil (slight orangeish tint), it smells much better. And the Vitamin E content or whatever, works. My itchy, dry skin is gone!
I apply the oil twice daily on my breasts which were suffering the most. You can also apply them to your hips and belly.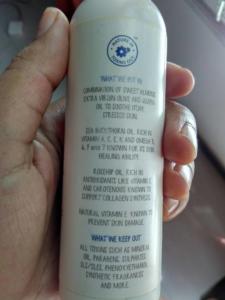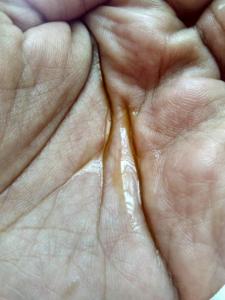 The Moms Co Review – Body Butter
Along with the Natural Stretch Oil, I ordered the body butter. Now The Moms Co Body Butter is a more expensive product, costing Rs 699 on Amazon.in. It is a more decadent product as well — the butter is thick and rich and honestly smells like a dessert — soo good that you could eat it.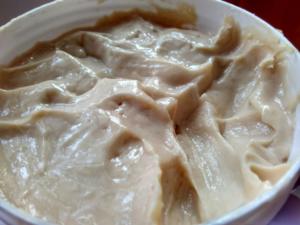 I apply it on my belly, hips and occassionally breasts. Basically wherever I can feel dryness or where I'm expecting stretch marks in the future (growing baby bump). It smells and feels great and my skin feels wonderful!
Overall, The Moms Co is making great products for a growing market!