Amazon Fire Stick is killing it! Here is our review of the Amazon Fire TV Stick in India.
Once upon a time newly married Mr T and I decided to splurge on a TV (Sony Bravia) but decided to cheap out by buying a non-Smart TV, thinking we could obviously add a dongle to increase our TV's IQ. We were disappointed to realise that Sony required a very specific Sony produced dongle to smarten the TV (which they've discontinued). And the screen mirroring option was Android only and generally unreliable.
Many years of watching Netflix and YouTube via a laptop and HDMI cable caused us to get quite fed up. We thought about getting Google Chromecast and the Made in India Teevee but none of the reviews were truly assuring. Amazon Prime Video also launched a few month later and we were quite hooked onto watching shows and movies online. But there seemed to be no perfect solution.
And then walked in Amazon Fire Stick, in its quiet, unassuming way, and just kills the competition entirely.
What is Amazon Fire Stick?
Amazon Fire stick is is a dongle that attaches to your TV via an HDMI port. (It also works for us by directly attaching it to the HDMI 2 port of our Harman Kardon sound system.) You plug in the dongle, attach it to a plug point and you are done. The easiest plug and play device I've encountered so far. (There's also an extension cable hidden away in the box, to improve the WiFi signal. Make sure you don't throw it away).
There's a remote control with the Fire Stick, making us even lazier! Yippee!
What are some of the Fire Stick channels available?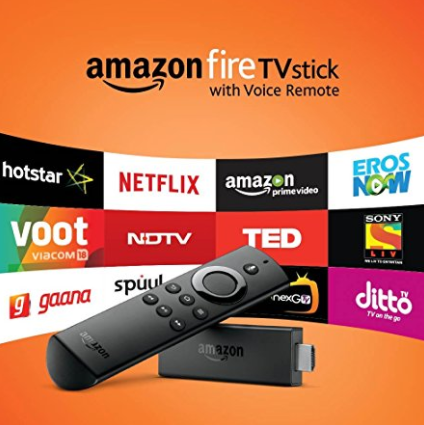 When you visit 'Home' on the Fire Stick,  you will automatically see the latest from Amazon Prime Video (a Netflix rival which also has pretty decent content. It makes sense to subscribe to this if you are thinking of getting the Fire Stick.)
You will also see links to several apps. You can directly connect your Netflix account, YouTube, Gaana, HotStar, and a whole bunch of other apps. And best of all its easy peasy. With a few button clicks you can pretty much whatever the hell you want.
What makes the Amazon Fire TV Stick awesome?
As I mentioned, it's easy-peasy. No configuration required. Works straight out of the box.
It's got all of video streaming apps under one roof. No more shuffling around devices and connections.
It works. It does what it says and it does it well. The video quality is wonderful. Navigation is easy. Like the Kindle being the best e-reader around, Amazon has killed it with the Fire TV. No need to look any further for a dong.e
It's got a mic built into the remote as well. You talk into remote and it will find programs / movies similar to what you are searching.
What are some drawbacks of the Fire Stick?
The main drawback would be the bandwidth the dongle consumes. In India, data is still relatively quite expensive. However, if you have a fast connection with a lot of data (we use ACT and it is awesome and relatively cheap), this will work for you.
The built-in mic only works for Amazon Prime Video. So if you are searching on YouTube or Netflix you have to type it in manually which is quite tedious.
How much does it cost?

The Amazon Fire TV Stick costs Rs 3,999 in India; it is available on Amazon and we recommend it wholeheartedly.