Most of us who have travelled on low-cost airlines in India (like SpiceJet) are accustomed to being treated like cattle. Being pushed and shoved, herded together, prodded into submission. I don't think it's easy to differentiate any of the airlines, be it GoAir, SpiceJet or Indigo. JetAirways, Air India and Vistara are somewhat different because they supposedly project an aura of luxury via free food (and usually terrible service). However, our three main low-cost airlines have comparable levels of service, comfort and combination of good experiences and terrible experiences.
SpiceJet vs Indigo vs GoAir
Our three main low-cost airlines have comparable levels of service, comfort and any frequent traveller would have a combination of good experiences and terrible experiences (cancellations, bad customer service, dirty air-crafts, and so on).
However, I have never come across a blatant lie by any airline like that of SpiceJet. This is a lie that trivialises the time of all their passengers just in order to improve their public image and gain some advertising points.
The lie that is SpiceJet
Here is the lie that was flashed across newspapers in Bangalore (and I'm guessing the rest of India) a few days ago in January 2017.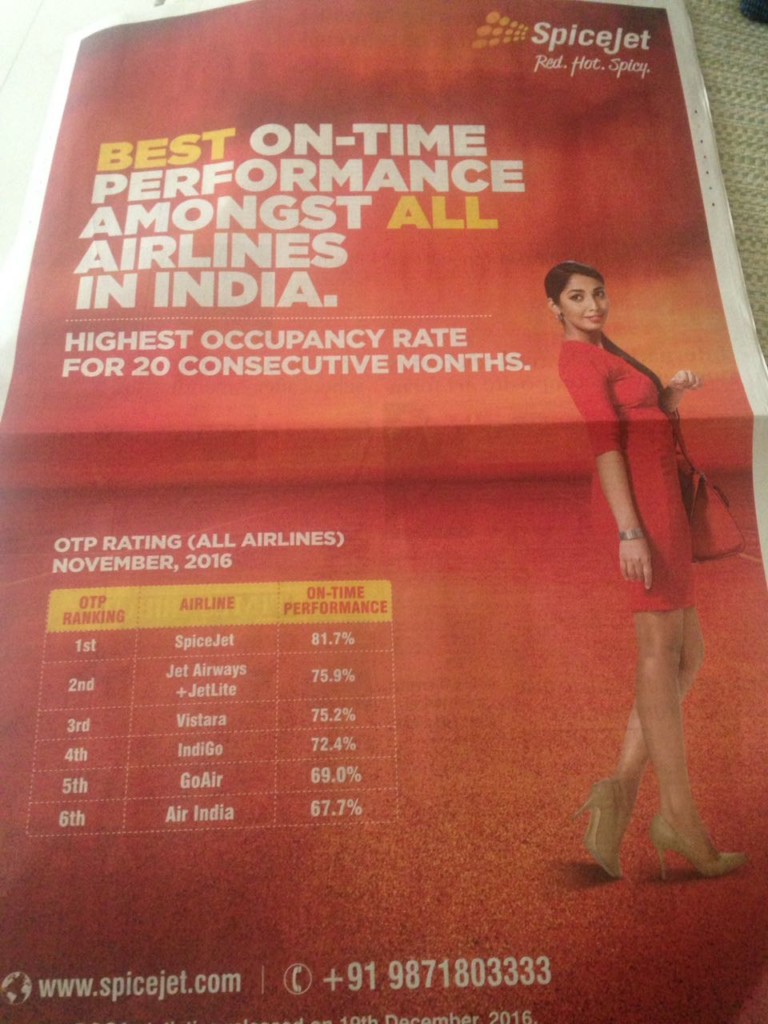 What is SpiceJet lying about? Well, you have to read on to know more.
The Lie of On-Time Performance (OTP) by SpiceJet
Earlier in December, I flew from Delhi to Bangalore. I have done this flight probably a hundred times in the last ten years. This time I flew on SpiceJet ( SG 473 ) and my flight details are given below:

See anything strange? No, I didn't either when I booked the ticket or when SpiceJet sent me this itinerary via email. However, when I reached the airport I did notice something strange.
My flight from Delhi to Bangalore will be taking almost 3 hours: 2 hours 55 minutes to be precise. 
Now, that is strange. I have flown so many times that I know it doesn't take nearly 3 hours to fly from Delhi to Bangalore. It usually takes a maximum 2 hours and 35 minutes. I thought that perhaps they are flying a smaller aircraft, which takes longer.
It was only when I boarded that I realised the truth.
SpiceJet schedules all flights 20 minutes prior to the actual departure time to give themselves some flexibility and to ensure "on-time arrivals". 
While our flight was scheduled for 8.25 am, and we boarded well in advance. The flight only left at 8.45 am — 20 minutes after the scheduled departure time.
The Proof of the Lie by SpiceJet
The proof, they say, lies in the pudding. And the pudding here are real stats by flight history states by FlightRadar24.com

As you can see here, SpiceJet doesn't have a single "on-time departure". Instead, almost all their departures are 20 minutes late and almost all their arrivals are on-time. This is despite the usual Delhi fog and delays that have hit other airlines.
A Waste of Time and Productivity
SG 473 has 189 seats. That is 20 minutes x 189 passengers whose time has been wasted. That is 63 working hours that have been wasted. And multiply that by the number of flights SpiceJet runs per day, and you will realise the staggering impact of this lie.
In Conclusion
I'm really disappointed in SpiceJet; I hope they learn that their customers aren't fools and deserve to be respected.
PS: SpiceJet paid commenters are active in the lower section of this page. Readers beware!