How many people does it take to start a ZoomCar? In our recent experience — no less than 7! Yes, no joking, look at the photograph. Our ZoomCar experience was a disaster and may this review serve as a warning to those who hope to zoom with a ZoomCar.
What is ZoomCar?
ZoomCar has the tagline self-drive for the self-driven. Whatever. It's a basic self-drive car rental service, similar to Hertz or Avis or Budget internationally. What makes it unique? Crappy cars and a first-mover advantage in India. Yes, I am a very disgruntled user so expect a scathing review. 
Basically, some foreign guys came to India in 2012 to study and were shocked to realise that there weren't any self-drive cars available in India, and for a good reason so. (Indian roads and drivers = bruised and bashed cars; enough taxi drivers seeking employment; enough people willing to run away with cars and sell parts.)
And so said foreign guys started ZoomCar in Bangalore and raised a whole bunch of money from (idiotic) investors ($20 million). And now 3 years later, we have an average company with crappy cars and average service.
Who are the competitors of ZoomCar?
On the international market, ZoomCar wouldn't survive with their crappy cars. However, in India, they don't have too many competitors. Mainly, Myles and Carzonrent.com. Haven't used either, so can't comment.
Our Experience with ZoomCar Bangalore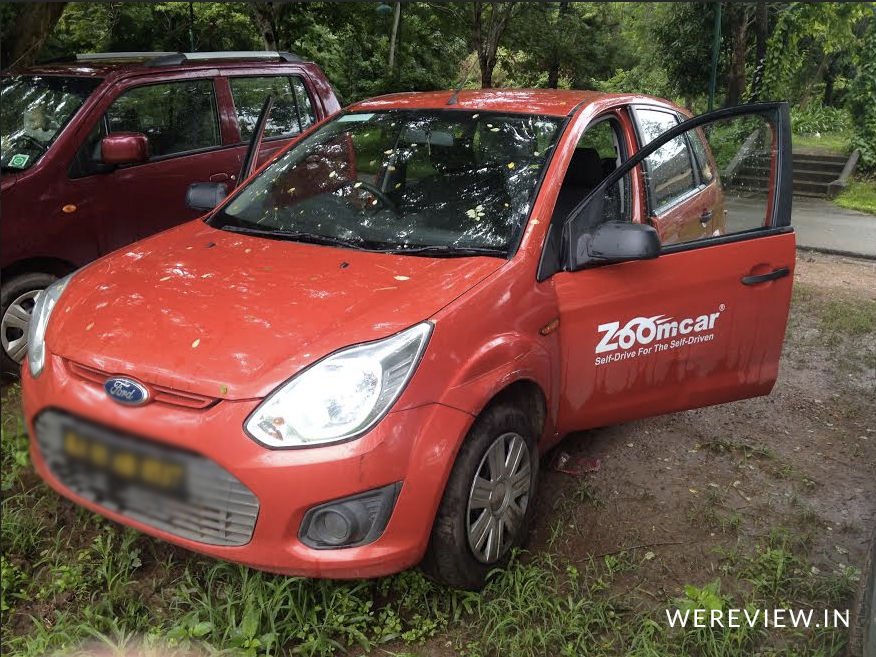 Mr T & I decided to go for a weekend trip to Kabini – approximately 250 kms away. We didn't want to take our own car for whatever reasons, and so Mr T decided to book a ZoomCar (as the type of person who likes to encourage all things start-upy). We booked a Figo since there were only two of us travelling and the roads were apparently not too bad to warrant a bigger car.
The car was delivered at the correct time. It was early morning and dark outside so we couldn't really inspect it. We immediately realised that the car key automatic locking wasn't working. Other than that we asked him to verify that the car was in good condition, and of course he reassured us that it was. 
When we took the car on the road, we immediately realised that it was a hunk of crap. Aside from scratches and dents all over the car, the suspension was terrible and every single speed bump and pothole caused our bodies to shudder. The car had done 77,000 kms, and you could tell that it wanted to retire peacefully. But nope, ZoomCar continued to work it to death. 
Not only that, the car wasn't even clean: dusty, lots of mosquitoes — pretty much like a crappy taxi cabs. Both Mr T & I have rented self-drive cars abroad and this was an embarrassment in comparison.
We called up ZoomCar customer support  to let them know, and they said oh, we understand, sorry, can you show it to a service center on your way? Take the bill and we will refund you? We were obviously like wtf? We have a destination to reach, and do not want to waste our time doing what you guys should have already done. The car still moved, so we said whatever, let's just continue.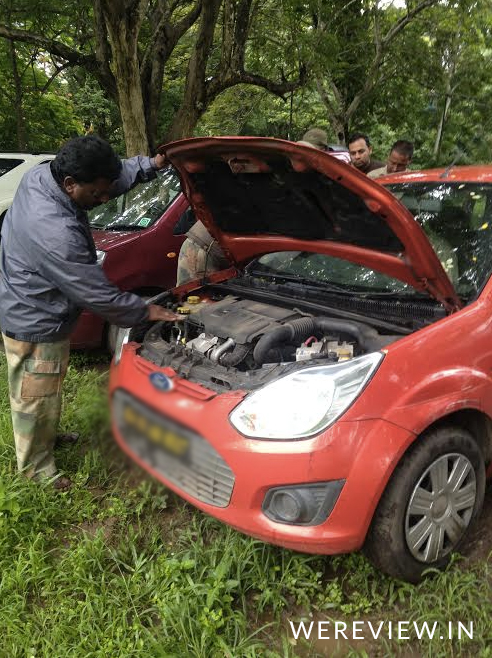 And then two days later was when disaster struck. We hadn't used the car for a day, so it was sitting idle in the parking lot in the middle of nowhere (next to Nagarhole National Park). And when we tried to start the car, all the lights on the dashboard lit up, and the car stubbornly refused to start. Was it an engine problem? Oil problem? Water problem? Battery problem? Who the f*** knows? The Zoom Car sticker in the car told us that it could be any of the above. 
I desperately tried to call ZoomCar customer support number, but it wasn't connecting. (Not a problem with network as I tried with 3 different cell phones). The Zoom website doesn't mention any other way to contact them in case of emergency which is utter nonsense. I had to log on to the website, try to unsuccessfully retrieve my password, send them an email before I managed to get in touch with them. 
On the positive, when I sent them an email stating our emergency they were quick to respond. The person on the other side was consoling, as though he knew what a shit product they had. 
By this time, the resort staff had come to help us and immediately recognised the problem as a dead battery. They happily pushed the car and got it going again.
In the meantime, the customer representative guy told us that we shouldn't use the AC for 45 minutes while the battery recharged. And we should stop by at a service station to show the car. Of course.
I'm just overawed by what a crappy service ZoomCar provides. A dead battery is not an unexpected situation. It's not something that happens out of the blue. It's something that should have been checked before the keys were handed over to the customer. This breakdown could have happened in the middle of the night in a deserted highway. Would ZoomCar be responsible if something happened to us? I think not.
ZoomCar Reaction to Our Complaints
Silence. Absolute silence. When we complained the first time regarding the suspension, they said sorry, we will raise a ticket. When we complained about the breakdown, they said sorry, we will address the matter.
Have we heard a word from them? No. 
What the fuel?
We got a ZoomCar package that included 640 kms free in the cost. But what was bloody weird is that the tank was only 60% full. Which meant that we had to fill the tank ourselves… and then go through this long circuitous path to get a refund of our fuel costs. When we were first charged, we were not refunded the fuel costs. We had to raise another ticket to get this refund going. We still haven't gotten it btw. 
Zoom Car Rental Customer Service Number
For those of you who want to get in touch with ZoomCar, here are their contact details
Zoom Cars Bangalore contact number: 080-60009666
ZoomCar email address: help@zoomcar.com
Would I recommend Zoom Cars Bangalore?
Hell, no. I'd only recommend it to college kids who don't have any other way of going around.
ZoomCar Promo Code
If you do still want to try out ZoomCar, you can use this coupon code to receive 20% off of your first ride
ZoomCar coupon code: ODY4MTQ4