If you are planning a Tanzania safari from India, there are several things you should keep in mind. These tips come from my own travels to Tanzania with Chalo Africa.
Best Circuits for Tanzania Safari Tours
There are 3-4 broad safari circuits that are popular amongst travellers visiting Tanzania.
Northern Circuit: This one is great for first-time visitors. You begin in Arusha and you cover the Ngorongoro Crater (a UNESCO World Heritage Site), Lake Manyara, Tarangire National Park, and then drive further into the Serengeti. Depending on the time of the year you visit, the Great Wildebeest Migration will either in the Northern Serengeti, Southern Serengeti, NCAA or the Grumeti Reserves. Nonetheless, it's best you spend at least 2-3 nights in the Serengeti. This means that you should spend at least 7-8 days on this safari circuit. You can add a Mt Kilimanjaro climb before the safari, or add a Zanzibar beach vacation after the safari. This means your vacation will be a total of two weeks. The Northern Circuit is great for family safaris or Tanzania honeymoons.
Southern Circuit: This circuit is more for intrepid travellers and covers Selous NP, Ruaha NP, Mikumi NP. You begin and end in Dar es Salaam. Because the parks are very expansive and there is a high level of poaching in areas such as Selous, this circuit is not very popular at the moment.
Eastern Circuit: This circuit is also quite offbeat. It is most well known for the Mahale Mountains with large families of wild chimpanzees. You can also relax on the shores of Lake Tanganyika and explore Katawi National Park. Because this is a remote part of Tanzania, it is also more expensive than other circuits.
---
How much does a Tanzania safari tour cost?
While safaris are expensive, it is important to remember that Tanzania safari packages are all-inclusive. Meaning from the moment you land in Tanzania to the moment you depart almost all costs are covered. This includes accommodation, meals, guide fees, vehicle fees, park fees, and in quite a few places, alcoholic drinks as well.
To give you an idea of Tanzania safari prices, a 1 week Tanzania safari from India would cost approximately US $3000 – $3500 per person exclusive of international airfare, visas and insurance. This would be a semi-luxurious trip. Prices can go up and down depending on the season and level of accommodation.
---
Best time to Visit Tanzania from India?
This is a difficult question because you can visit Tanzania throughout the year and see something different. Things to remember are that the great wildebeest migration is in Tanzania from October to June (8 months in the year). The rest of the 4 months it is in the
---
Best time to Visit the Serengeti
Well, my favourite time is the calving season, which is also right before the rains come.
Jan – March: Migration is in the NCAA / Ndutu region of the Serengeti. Which means you can easily drive down from the crater, no need for any other flights. It is calving seasons, so expect lots of babies. It is also heading towards low season so cheaper prices.
April – May: Long rains. While the black cotton soil makes it very difficult to drive, a lot of people do travel at this time. The migration is in the Southern Serengeti.
June – July: The Migration is in Grumeti and heading north towards the Mara. This is the best time to visit to view the famed Mara river crossings. It is recommended you take a flight to get to Northern Serengeti.
August – September: Migration is the Masai Mara, Kenya.
October – December: Migration is in the Northern Serengeti, heading towards eastern Serengeti. Again flights are recommended to reach this part of the Serengeti.
---
Can I do a combined Kenya Tanzania safari?
Yes, you can, however, I'd recommend not rushing around too much. It's best to stay in one national park for at least 2 nights so that you have 4 game drives and can see what the park truly offers. Also, remember that the Masai Mara and Tanzania are part of the same eco-system with a border between them. So if you are doing the Masai Mara for the Migration in September, you don't need to head to the Serengeti after.
---
Mt. Kilimanjaro Treks from India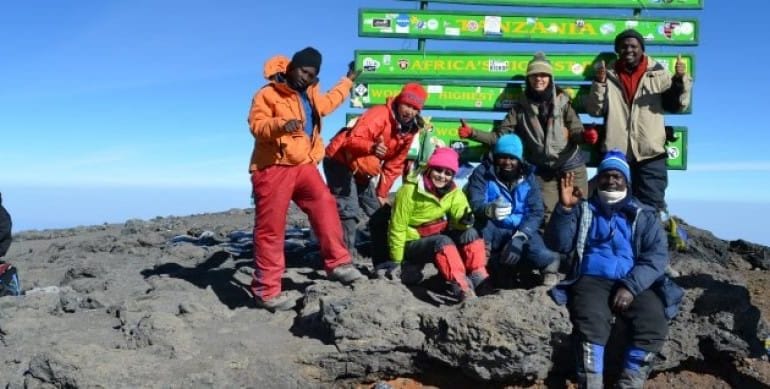 If you are planning a Mt Kilimanjaro climb from India, it's best to fly directly into Arusha. From there you will be taken to Moshi (a short drive) and then dropped off to the park gates for your climb. There are several routes, varying in intensity and scenic beauty. It is best to take a longer route to the summit because acclimatization takes time. Unfortunately, a lot of people don't make it to the summit because they haven't acclimatized properly.
http://www.chaloafrica.com/safari-tours/experiences/kilimanjaro-climbs/
---
How to Get to Tanzania from India
There are, unfortunately, no direct flights from India to Tanzania. You can either fly via Nairobi to Arusha or Dar es Salaam, or via the Middle East (Emirates, Qatar, Etihad) to Tanzania. Flight durations from India are approximately 8 to 12 hours with one stop over. It is important to note that if you are doing a Northern circuit safari, you should try and enter from Arusha. If you are adding on Zanzibar to your trip, you can take an open jaw trip, for example, Delhi – Arusha one way and Zanzibar – Delhi on return. Alternatively, you can also do something like a Mumbai – Arusha one way, and Dar es Salaam – Mumbai on return.
---
Tanzania Visas from India
Indian citizens require a visa to enter Tanzania. You can either get this visa from the Tanzanian embassy or consulate in New Delhi or Mumbai, or you can get a visa on arrival when landing in Tanzania. Visa on arrival costs USD 50 per person, and it is recommended to carry the exact change.
---
Is Yellow Fever Vaccination Required for Tanzania?
No, you do not need a yellow fever vaccination certificate if you are travelling directly from India to Tanzania (this includes short connecting stopovers in Kenya or Ethiopia). Read more here.
---
Is Oral Polio Vaccination Required for Tanzania from India?
No, you do not need an oral polio vaccination certificate if you are travelling directly from India to Tanzania (this includes short connecting stopovers in Kenya or Ethiopia). Read more here.
---
Who can I contact to plan my Tanzania tours and safaris?
Chalo Africa are African safari specialists with offices in New Delhi and Bangalore. They can plan Tanzania safaris, Kenya safaris, Botswana safaris, South Africa safaris, and many other African safari tours. You can reach them at www.chaloafrica.com or call at 9717 275237 or 9910 202748.
---
Note: Map courtesy Chalo Africa. Image courtesy Gary. This post is not a review of Chalo Africa, as I have a personal interest in the company. However, if you are planning a Tanzania Safari from India, do get in touch with the team here.