In India, thankfully enough, Kajal is not considered make-up but a part of life. And when you wear contact lenses and suffer from dry eyes, the kind of kajal you use is super important.
Review of Kajals available in the market in India
Over the years I've tried them all.
I think the first Kajal I ever used was my mother's — Shahnaz Husain's Kajal (Rs 265),
which although was very soft and apparently herbal, left you with large smudges — raccoon eyes is how I would describe it.
Then came Himalaya's Herbal Kajal (Rs 120)
— again in a lipstick type of container. This, for whatever, reason didn't suit me. Left my eyes dryer than before, so I had to abandon it entirely.
Following this was the age of the stick kajals
The first was Maybelline Colossal Kajal (Rs 199)
, which comes in a pencil stick (never needs to be sharpened which is great). It's apparently water proof and stays on for 12 hours. I'd say it stays on for 6 hours nicely, after that it fades. It is quite strong, doesn't break at all. However, for someone like me with super dry eyes, it feels quite dry and doesn't soothe my eyes.
Same goes for Lakme Eyeconic Kajal (Rs 210)
. I honestly don't see much difference in the two, and both don't soothe my dry eyes.
I haven't tried L'oreal Paris Kajal Magique (Rs 275)
but I'm assuming it would be none too similar.
Lakme Absolute Kohl Ultimate Kajal Review
For a few years after this I stopped using Kajal entirely as my eyes became too sensitive. My sister-in-law then bought me a MAC kajal, and suddenly I was like WOAH! Kajals can feel like this? The Kajal finished and it was only available for almost Rs 3000 (YOUCH!)
So I started looking for alternatives that were lighter on the pocket, and that's when I stumbled across Lakme Absolute Kohl Ultimate Kajal
. It was soft — oh so soft — and it smudged just so beautifully. It was dark and smooth, glided effortlessly across my eyes. It is smudge proof and has a tool at the back that helps you smudge. Best of all, it didn't leave my eyes dry and irritated. It was perfect for someone like me who wears contact lenses (Bausch & Lomb Toric).
Lakme Absolute Kohl Ultimate Kajal Cons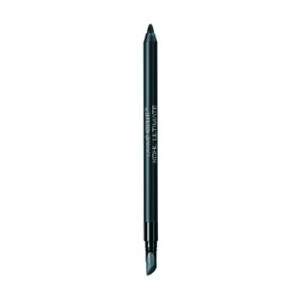 It is soft, oh so soft. So you need to use a sharpener very often. (It's a wooden pencil; not a pencil stick so it needs to be charged).
The sharpener can't be a regular pencil sharpener (I've tried!) That breaks the kajal. Instead you need to buy Lakme's pencil sharpener (available for Rs 60 on Amazon.in — )
The smudging tool at the back has a plastic cover which keeps falling off.
You NEED to use an eye makeup remover to remove the kajal. Don't try washing it off or just wiping it off. You need an eye makeup remover. I use MAC, butL'Oreal Paris Eye Make-Up Remover also seems to be good.
Overall Lakme Absolute Kohl Ultimate Kajal Review
I would highly recommend the product, even if it comes at relatively higher price (Lakme Absolute Kohl Ultimate Kajal, 1.2g
 officially costs Rs 725, but available on Amazon.in for Rs 580.) If you have sensitive eyes and wear soft contact lenses, don't hesitate!
Price comparison of kajals