This super dark, super healthy chocolate recipe can be made in 5 minutes with ingredients available in India! Ingredients are simple:
5 tbsp cocoa powder (unsweetened) – I recommend Hintz Cocoa Powder, 454g – Rs 700 or Rs 325 for 125g
5 tbsp unrefined virgin coconut oil – I recommend Merit Extra Virgin Coconut Oil (Pack of 3) (500 ML) – Rs 1125 OR KLF Nirmal VCO 500 ML (Full) – Rs 260
2 tsp sugar (powdered preferably)
Splash of vanilla essence
pinch of salt
(Lasts 1 chocoholic only 2 days 🙂 )
Tip: Don't use Parachute coconut oil! While Parachute is edible, it is NOT virgin coconut oil. Doesn't have the benefits of VCO (virgin coconut oil).
Mix the cocoa powder and coconut oil in a bowl. You'll be shocked to see how well and easily it mixes.
Add sugar and salt
Stir again
Optional: Add anything else you want (walnuts, chilli powder :P)
Pour into chocolate moulds or a flat dish on baking paper and put in the fridge.
Once hardened you can break it into little pieces.
Review: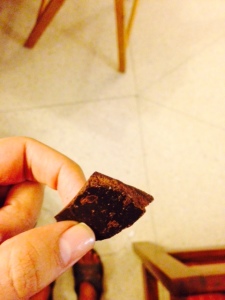 This is a fantastic recipe which literally takes 5 minutes to make! More than that, it is very healthy. Good cocoa powder (like Hintz) has a whole bunch of health benefits (anti-oxidants, minerals, etc) and coconut oil is SUPER healthy for you (aids weight loss, vitamin E for anti-aging, etc, etc). It doesn't have any added preservatives or crap that chocolate in the market will have.
Best of all — it barely has a coconutty flavour! Yep, I'm not the biggest fan of coconut oil taste wise, but this is just an incredible combination! Do it!