Ugh. Ughhhh. Ughhhhhh.
Yes, if I were to sum up my review in 3 words, it would be: Ugh. Ughhhh. Ughhhhhh.
This is horrible, horrible, horrible dish. A roti/kathi filled with processed crap pretending to be a mexican dish. Ughhh. CRINGE!!
Okay I shall endeavour to be a little more scientific in my dissection.
Appearance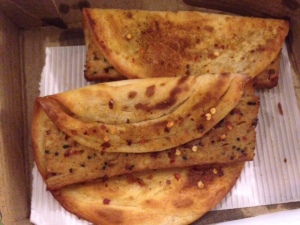 Ughhhhh. See for yourself. A weird kathi roll/malabar paratha with over-over-over-processed rectangular-shaped meat inserted (I wonder what strange animal bits they used to make this!). And worse still, it came to in this weird open way. If you look at the image on the box cover, it still looks delightful. Fluffy, crisp, light. Not what a taco should look like but anyway. And what did I get? Flat, dying, depressing. UGHHH!
Flavour
Overall gross. The weird kathi roll type thing isn't bad if you think of it as a kathi roll. Floury and heavy (lots of oil). If you think of it as a taco, you'd kill yourself, so don't go there. The meat is HORRIBLE (similar to the subwich kind of horrible). It is not meat. It is spam (the food) — weird, over processed meat (so you can't tell what it is at all). In my head email spam got it's name from this kind of spam (horrible, unwanted things you want to throw away). There is some fake cheese saucy thingy happening as well which makes it a little better, but overall UGHHHHH.
Concept
Mexican food is about freshness and lightness. Domino's made it the opposite: stale and heavy. UGHHHHHH!
Price
Domino's Taco Mexicana non-veg is priced at Rs 105 without taxes and Rs 123 with taxes. The veg version of this horrible dish is priced at Rs 95 without taxes and Rs 112 with taxes.
Last word
I'd love to feed this to Mexicans (or anyone who knows what a taco is) and watch them die with horror! Ughh.
Also read my review for Domino's Subwich, Domino's Calzone Pockets and Domino's Spicy Baked Chicken.