Raindrops on roses, and whiskers on doggies, brown paper packages with Cadbury's Dairy Milk hiding in between, these are a few of my favourite things!
Yes, if the world were to come to an end and I had to declare my favourite chocolate, it would Cadbury's Dairy Milk (the kind available in India — not UK or Australia!) Of course, I know there are better quality chocolates out there, but as a nostalgic child of the 80's and 90's, Cadbury's Dairy Milk ALWAYS tops my list.
Now, when it comes to fancy gift boxes of Cadbury's chocolates I have often been disappointed. The packaging is usually tremendous but the chocolate usually falls flat — both on quality and quantity standards.
That was before I encountered Cadbury's Glow Luxury Pralines. Three letters to describe it: WOW!
Flavour: Simply superb! When you bite into the chocolate you encounter a layer of caramel layered on top of praline with coated with signature Cadbury's milk chocolate. Divine!! The only criticism I would give that it's a little too sweet (even for someone like me). Caramel + milk chocolate + praline is too many layers of sweetness. Cadbury's could tone it down a bit.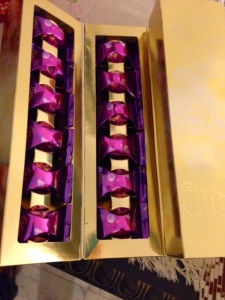 Appearance: I am mesmerized! It is not often you come across chocolate with such great packaging. The outer box is designed beautifully, the inner case slides out perfectly and the pralines are seated beautifully in this throne of gold. What's even better is the way the individual chocolates are packaged: it only takes one simple tear down one side of the wrapper and the chocolate is revealed. No wrestling with annoying wrappers that refuse to open. It's simple, it's beautiful and it works! Now that's what I call good design!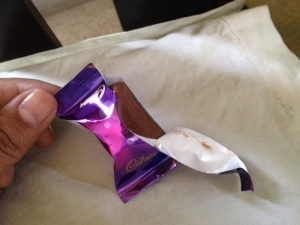 Concept: Fits in beautifully with Diwali sale season. I would definitely prefer a box of Cadbury's Glow to all the mithais that are usually gifted. Apparently there is some personalized gift/secret message you can leave for your friends/loved ones when you buy the chocolate online. Check it out: http://www.cadburyglow.com/in/gift-a-cadbury-glow
Price: Rs 600 for box of 24; Rs 400 for a box of 16; Rs 2000 for a box of 56. (The Rs 600/24 is an excellent size for a gift). I would have expected it to be far more expensive, considering the quality of packaging and the flavour. You can buy it online: http://www.cadburyglow.com/in/gift-a-cadbury-glow
Only negative: Fans of (exclusively) dark chocolate will find this too sweet and milky. But for me — wowwww!
If you're a fan of dark, dark, dark chocolate, try my Super Dark, Super Quick, Super Healthy Homemade Chocolate Recipe.